Overview
The MSc in Energy Law, Business, Regulation and Policy Programme is being offered by the School of Humanities, Social Sciences and Economics of the University Center of International Programmes of Studies of the International Hellenic University. The programme has as its objective the provision of postgraduate level studies, specialization and experience in Energy Law, Βusiness, Energy Policy, and Geostrategy, as well as the general regulatory intervention in the area of the energy sector as a whole. It offers a highly flexible qualification suitable for a wide range of career opportunities in many sectors.
Emphasis is given to legal, economic, geopolitical, business and environmental problems which arise and the political, legal and legislative solutions offered in the greater European and International Energy sector, in relation to Energy sources and infrastructure, international energy transactions, transportation and storage of Energy, the legal, commercial – business, regulatory, geopolitical, economic and financial issues and the resolution of disputes which arise in the energy sector, for the purpose of a holistic, all-around inter-disciplinary approach to energy issues, business and markets.
The basic aims of this MSc are the following:
The acquisition of specialized knowledge for a successful career in national and international organizations, energy businesses and companies, law offices and firms, Regulatory Authorities, and public sector services and organizations, which deal with the whole range of energy issues.
The understanding of issues which arise in the contemporary international environment of energy procurement, energy transactions, and their geostrategic and environmental ramifications as well as the rapid and successful resolution of relevant disputes.
The in-depth study of issues pertaining to the formulation of energy policy and design on a national, European and international level, as well as within their regulatory context.
The extensive cognition of transnational, European and comparative aspects of the energy sector which relate to issues of commerce, businesses, international exchanges, law, economy, finance and ADR.
This programme is designed for University graduates of Law & Political Sciences, Economics, Business Studies & Engineering, with a strong motivation to pursue a career in energy related domains.
The courses are taught exclusively in English. The academics teaching on the programme come from universities both abroad and in Greece.
Official Government Gazette:
Re-establishment PDF (in Greek)
Key facts

Start date: October 2022
Application deadline: 30 September 2022 extended until 16 October 2022 or until places are filled
Campus: Thermi, Thessaloniki
Duration/Mode: 1,5 years full-time or 2,5 years part-time / weekends
Taught language: English
Entry requirements: An undergraduate degree from a recognised University
Language requirements:IELTS (academic 6.5 and above), TOEFL (IBT, 95 and above) or TOEIC (745 and above) score, or a recognised by the Greek State certificate of proficiency in English of C1 level
Fees: 3,000€ (total)


Testimonials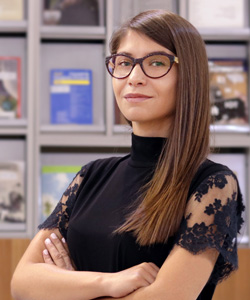 Zana Govori
MSc in Energy Law, Business, Regulation and Policy
-
If you are looking for a multicultural and a top-notch public university, with innovative programmes prepared according to the market needs, with premises located in the beautiful and vibrant city of Thessaloniki, then IHU is the right institution for you.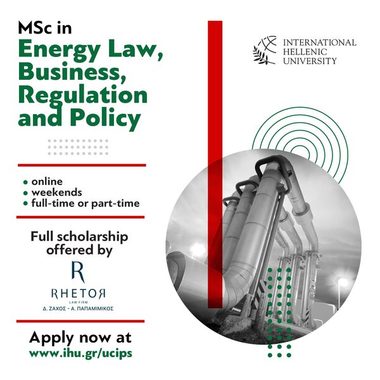 Who can apply
To be considered for the programme, candidates are required to have:
Course content
The core courses
The elective courses
The Dissertation
By the end of the series of taught courses, students choose a dissertation topic relevant to the courses of the MSc programme. The topic is chosen by the student with input and advice from a faculty member, who acts as the supervisor, working closely with the student. The dissertation is an individual paper of original scientific work, which upon completion is submitted for examination and approval by a three-member committee chaired by the student's supervisor.
Schedule
The MSc in Energy Law, Business, Regulation and Policy (full-time mode) is a 1,5 year programme taught over three terms. Lectures take place on weekends, twice or three times a month. It is also available in part-time mode over 2,5 years for those who cannot commit to a full-time programme either due to work commitments or other reasons.
Teaching of courses can either take place in a classroom (requiring students' and teachers' physical presence) or/and through distance learning (without students' and teachers' physical presence) as defined by current relevant legislation.
In order to be awarded the MSc degree, students must complete a total of 90 credits. This involves taking: Nine core courses (54 credits), two elective courses (6 credits), Master's Dissertation (30 credits).
FULL – TIME MODE:
During the first term, all students are required to follow five (5) mandatory core courses. During the second term, all students follow a further four (4) core courses and two (2) elective courses. Finally, during the third term, work is dedicated exclusively to the Master's dissertation.
PART – TIME MODE:
The first year includes three teaching periods during which five (5) core courses and one (1) elective course are offered. The second year students are taught over three teaching periods the remaining four (4) core courses and one (1) more elective course. During the second year there is a fourth period in which the Dissertation should be completed.
Fees & Financing
Fees
The programme fees for the MSc in Energy Law, Business, Regulation and Policy is 3.000€. The amount is payable in two instalments for the full time mode or in four instalments for the part time mode at the beginning of each semester. The fees are also eligible for financing through LAEK – OAED programme.
Deposits
If you have been accepted to a postgraduate programme, you will need to make a payment of the deposit of 500 Euros to secure your place. This amount will count towards the first instalment of your tuition fees. The deposit is non-refundable once you have commenced your studies at the IHU. Prior to that, a refund can be made but a 20% administrative fee will be retained. The deposit can be paid by bank transfer or bank draft. Credit card payments can be made through electronic banking (contact your Bank as handling fees may apply).
Scholarships
The School of Humanities, Social Sciences and Economics offers a number of scholarships for the programmes it offers, covering a significant proportion of the fees. These scholarships are competitive. Award criteria include the quality of the first degree, the undergraduate grades of the candidate, his/her command of the English language and overall profile. Candidates for scholarships should include a separate letter with their application documents in which they request to be considered for a scholarship, stating the reasons why they think they qualify.
For more information please contact the associate of the Programme, Μs. Maria Droungelidou: 2310807564/565 (m.droungelidou@ihu.edu.gr)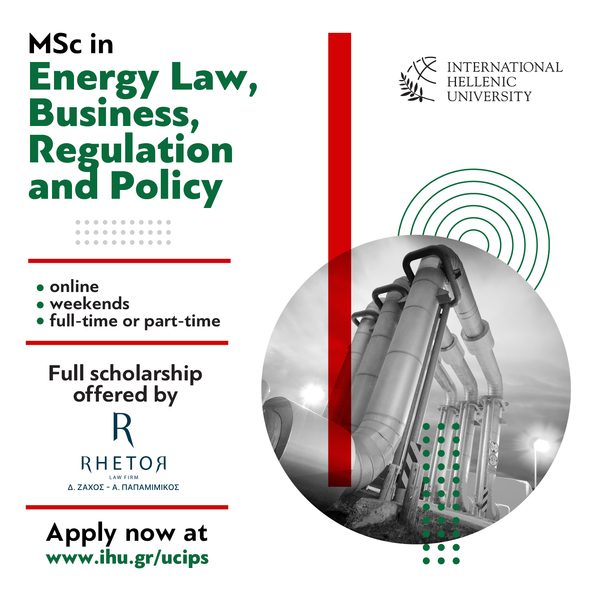 Programme announcement – Admissions
Next MSc in Energy Law, Business, Regulation and Policy class starts in October 2022. Interested parties are invited to submit their application by 30 September 2022 16 October 2022 or until places are filled, by following instructions at the applicatios page.
Location
The MSc in Energy Law, Business, Regulation and Policy takes place in the facilities of the School of Humanities, Social Sciences and Economics of the University Center of International Programmes of Studies of the International Hellenic University in Thermi-Thessaloniki.
Contact
Postal address:
School of Humanities, Social Sciences and Economics
Department of School of Humanities, Social Sciences and Economics
University Center of International Programmes of Studies
14th km Thessaloniki – Nea Moudania 570 01 Thermi, Thessaloniki, Greece
Tel: +30 2310 807 564/565/523
+30 2310 474 567
Email: infoshsse@ihu.edu.gr