Summer Academy 2022
Climate Crisis: Social & Economic Impact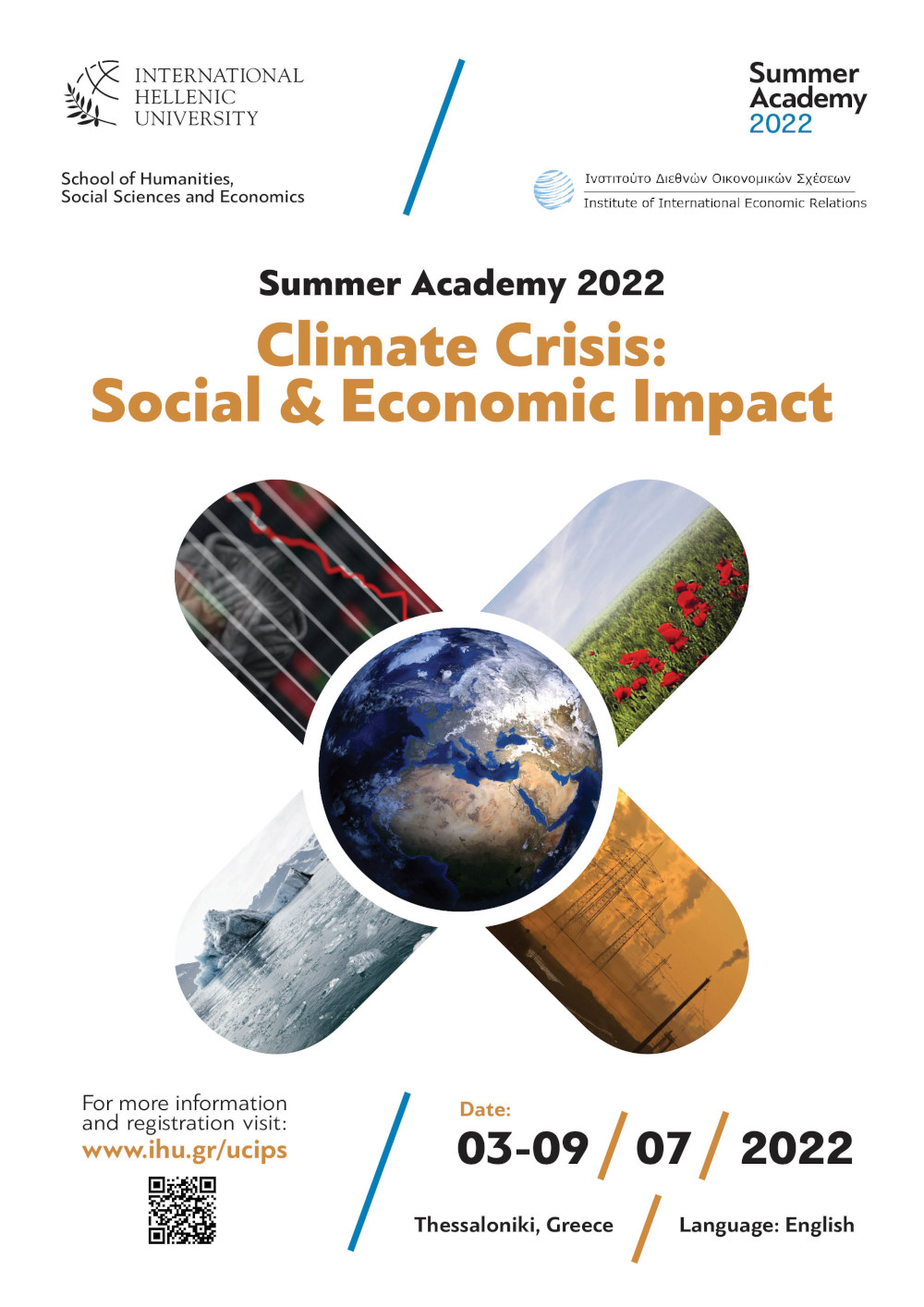 ---
Study in depth on these energy market and climate crisis issues by applying to the Master Programme of our University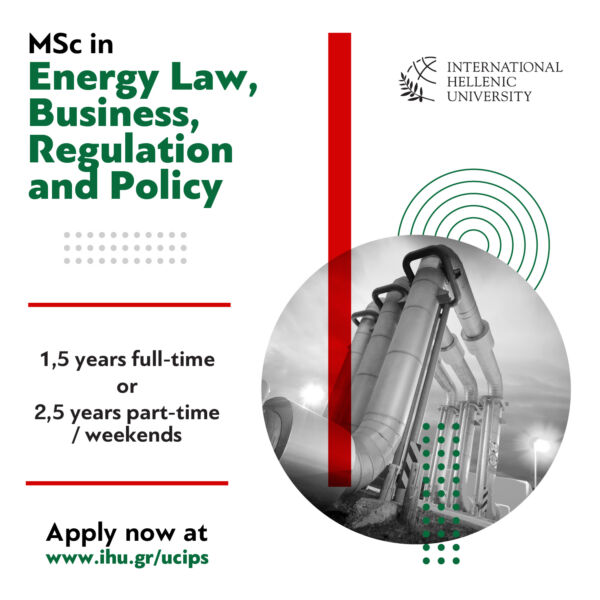 General Information
The School of Humanities, Social Sciences and Economics of the University Center of International Programmes of Studies of International Hellenic University (I.H.U.) is exceptionally pleased to announce the organization of the 1st Energy Summer Academy  on "Climate Crisis: Social & Economic Impact".
International Hellenic University is a centre of academic excellence, and this tradition underpins our summer classes. Our Summer Academy gives participants from around the world the opportunity to explore, in a small-class setting, a subject of high interest. The effects of Climate Crisis on key sectors of society and economic life, as well as the actions to be taken by the states are going to be analyzed in depth, while emphasis will be given on the initiatives taken by the EU to deal with these effects.
---
Study in depth on these energy market and climate crisis issues by applying to the Master Programme of our University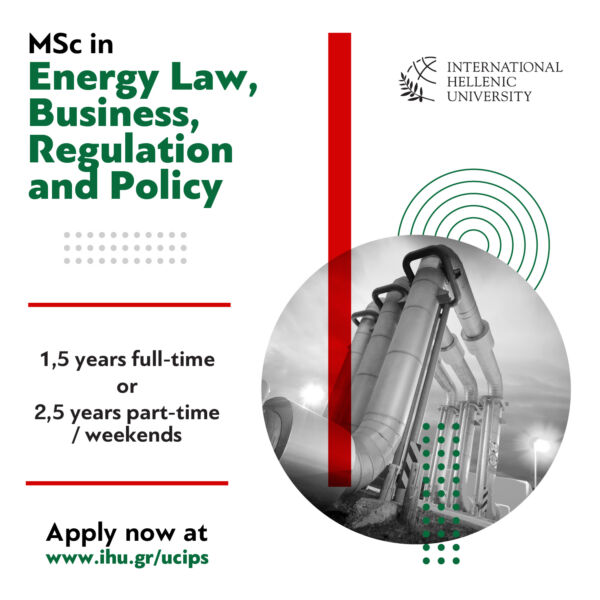 Academy Details
1st Summer Academy on "Climate Crisis: Social & Economic Impact"
Organizer: School of Humanities, Social Sciences and Economics of the University Center of International Programmes of Studies of International Hellenic University
Scientific Directors:
Dr. Theodore Panagos
Asst. Prof. Komninos Komnios
Location: Thessaloniki, Greece
Date: 03-09 July 2022
Duration: 1 week
Venue:
3 July 2022: International Hellenic University, Thermi, Thessaloniki
4-9 July 2022: Amphitheater "Ioannis Manoledakis" of the Bar Association of Thessaloniki (103, Tsimiski Str., Thessaloniki city center)
Mode: face-to-face event
Credits: 3 credits
Fees: 100€
Subject Topics / Goal
The aim of this 1-week intensive Academy is to make the participants more acquainted with the impact of Climate Crisis by providing up-to-date knowledge presented and discussed by experts of the relevant fields.
With regards to the crucial subject of climate crisis, issues to be discussed will include, inter alia, climate change risks and insurance, energy security, dispute resolution, as well as the environmental dimension, the economic and the geopolitical impact of climate crisis.
The Summer Academy will be conducted in English, by distinguished Faculty Members and Academics from International Hellenic University and from other Universities in Greece and abroad, as well as by industry representatives, specialist commentators and experts working on this energy field. International Hellenic University inaugurates a  Summer Academy that gives its participants the chance to attend a lecture series,  by top Professors currently engaged in this energy field.
Programme Structure / Working hours
The lectures will be live and will take place, in Thessaloniki, during the first week of July 2022 (between the 3rd and the 9th of July 2022). More specifically, for the period of 1 week, 6 lectures will be offered from Monday 3 July to Saturday 9 July (10.00a.m.-12.00 p.m. & 12.10-14.00 p.m.). Along with the lectures, the program includes some further activities; the participants will be given the opportunity to participate to Site Visits, as well as enjoyable excursions by the sea organized by the University. The detailed programme will be announced soon.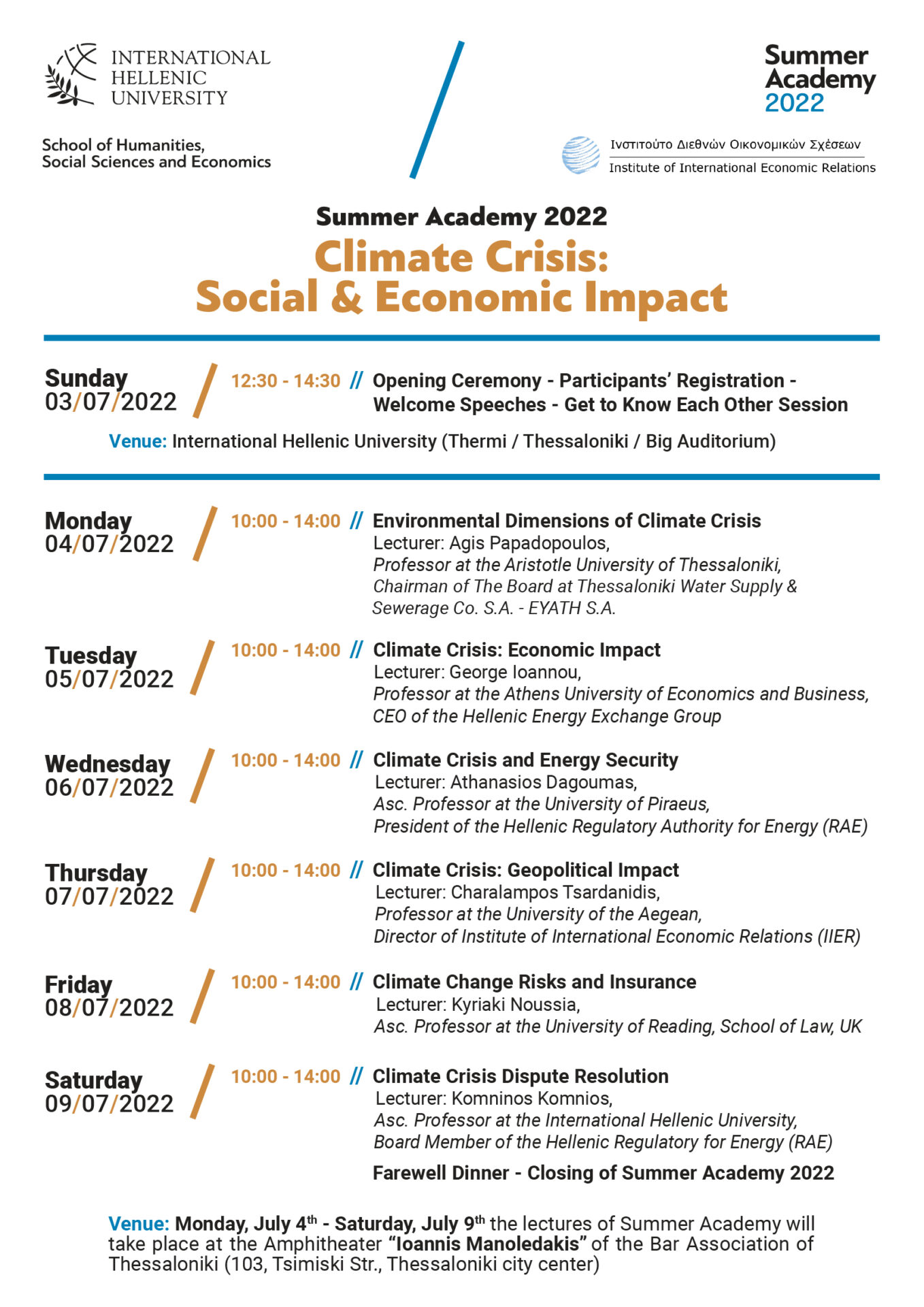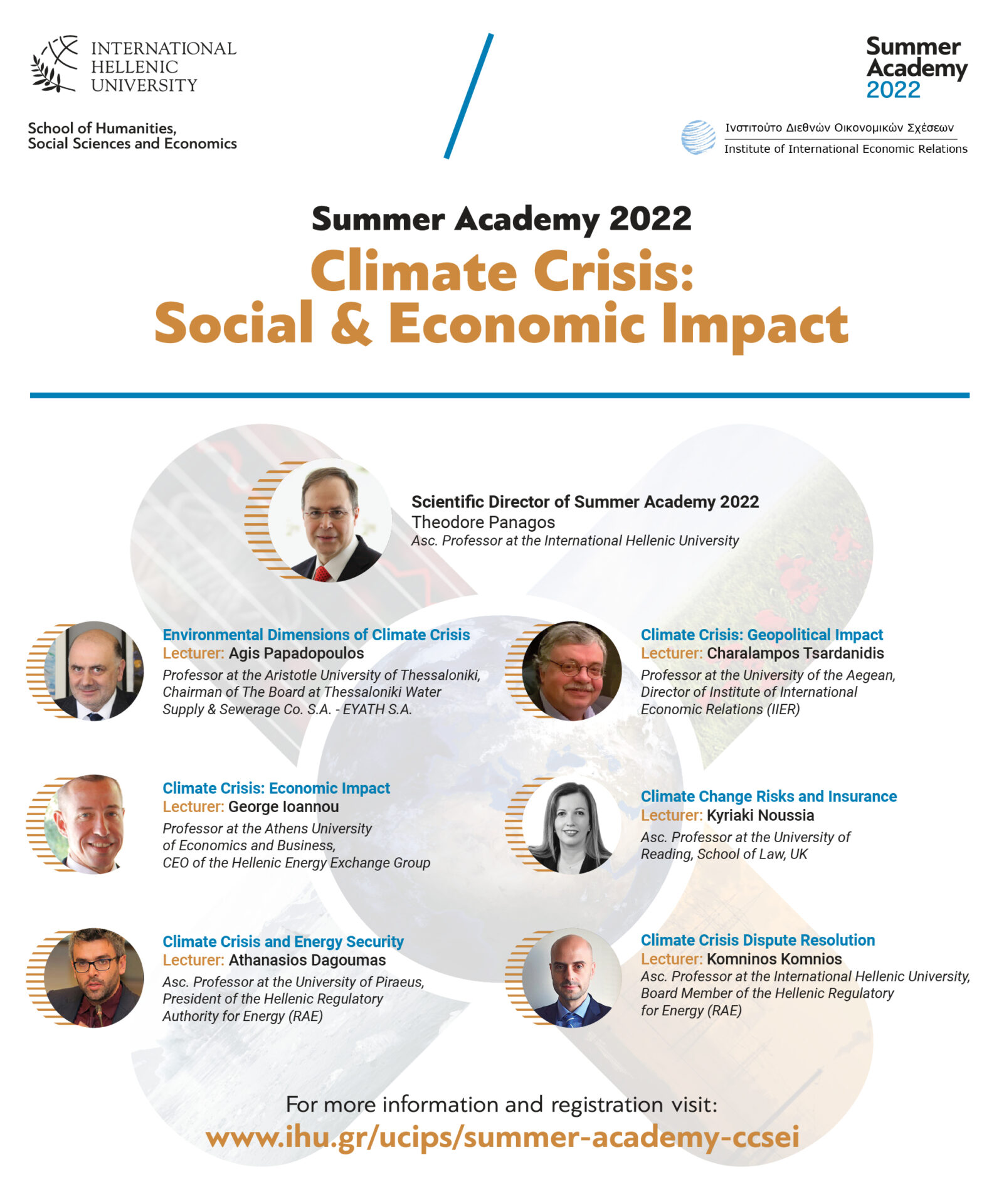 Certificate of Attendance and Course Credits
A Certificate of Attendance will be awarded at the end of the program to all attendees who have fulfilled all requirements.
Successful completion of the program leads to the award of 5 ECTS credits. Students/graduates, taking the course for credit at their home institutions, are advised to ensure, preferably in advance, that their college or university will recognize such certification and award the suggested credits, since degree requirements vary among universities
The School will provide the participants with electronic material, presentations of the lectures, court decisions, material for workshops and case studies.
Accommodation and Tuition Fees
The tuition fees are 100 € (non-refundable). The fees will cover:
Participation in the Summer Academy
Welcome Social Event on the Induction Day (3rd of July)
Transportation from Thessaloniki to a) Vergina (cultural historical excursion in Vergina Archaeological Site) and b) Halkidiki (social excursion by the sea)
Goodbye Social Event (Dinner) (9th of July)
All participants are responsible for covering travel costs from their home cities to Thessaloniki and other everyday expenses. Participants will have to cover their travel and accommodation expenses. Participants can choose accommodation from a variety of options, with prices starting from 200 € for the whole week.
Contact Info
Organizing Committee of the Summer Academy
Dr. Theodore Panagos, Scientific Director
Asst. Professor K. Komnios, Scientific Co-Director
Maria Droungelidou, Scientific Assistant
For academic information contact: energyacademy2022@ihu.edu.gr
For further information contact: +302310807-565/-564/-563/-521
Apply  for the "Climate Crisis: Social & Economic Impact" Summer Academy 2022
Applications: Open on 08.04.2022
Places are awarded on a "first-come, first-served" basis, so we suggest candidates to apply as early as possible to ensure a quick response and place availability.
Late applications will be considered, but places are limited, thus there might not be availability by that stage.
In any case, the University remains the right to decide upon the admission or the rejection of the applications, taking into account, inter alia, the applicants' level of English language knowledge.
I) Participants
The Summer Academy on Climate Crisis welcomes applicants from a wide range of educational and professional background. Participants can be undergraduate students and graduates of related disciplines. Applications from other professionals with an interest in energy and environmental issues will also be taken into consideration. Applicants should be well acquainted with the English language.
The Academy is open to a maximum of 35 participants.
II) Entry Requirements/ Required Documents
In order to apply to I.H.U. for your participation in the Summer Academy 2022 (on Climate Crisis), you will need to provide the following documents:
a completed application form.
III) Sending your Application (Procedure):
For your application to be considered, applicants are required to submit the above document (application material) in electronic form (via e-mail) to the following address: energyacademy2022@ihu.edu.gr.
The Procedure that you have to follow is the following:
Once you send us by email (to: energyacademy2022@ihu.edu.gr) the abovementioned required document, your application will be examined by the University. Within 10 working days upon receipt of your application, you will get an answer by the University stating your acceptance (you will receive a "Letter of Conditional Acceptance") or not (you will receive a "Letter of Rejection") to the Programme.
As soon as the Letter of Conditional Acceptance is received by you, you have to proceed to the fees payment (within 3 working days) and send us by email (energyacademy2022@ihu.edu.gr) the scanned banking receipt of the fees payment.
Once your banking receipt has reached us, you will be considered a fully registered participant to the Programme (Summer Academy 2022).
Please make payment to the International Hellenic University account as follows:

PIRAEUS BANK
Name: ΕΙΔΙΚΟΣ ΛΟΓΑΡΙΑΣΜΟΣ ΕΡΕΥΝΑΣ ΤΟΥ ΔΙΕΘΝΟΥΣ ΠΑΝΕΠΙΣΤΗΜΙΟΥ ΤΗΣ ΕΛΛΑΔΟΣ (Special Account of International Hellenic University)
Account number/IBAN: GR22 0172 2160 0052 1606 0850 608
Swift code: PIRBGRAA

Please remember to state your name, programme code and name and year !
(e.g. Nikos Papadopoulos, ergo 80860, Summer School on Climate Crisis, 2022)
For more information or queries on the application process, please feel free to contact us on +30 2310 807565/564/521 or  energyacademy2022@ihu.edu.gr and we'll be happy to speak with you.