How you get to the IHU UCIPS
From the Airport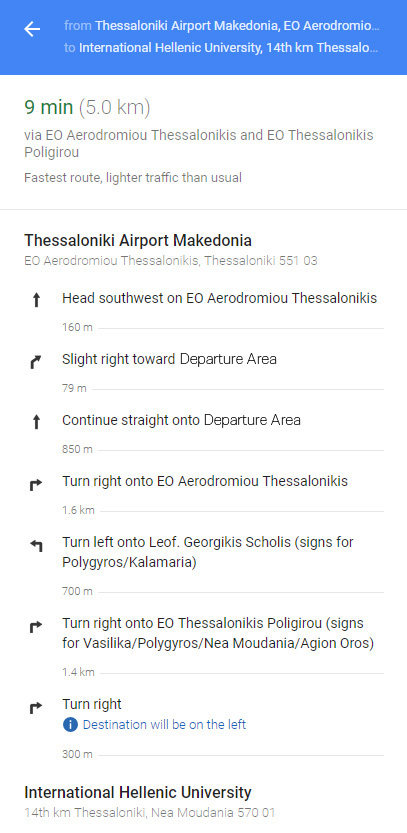 From Aristotelous Square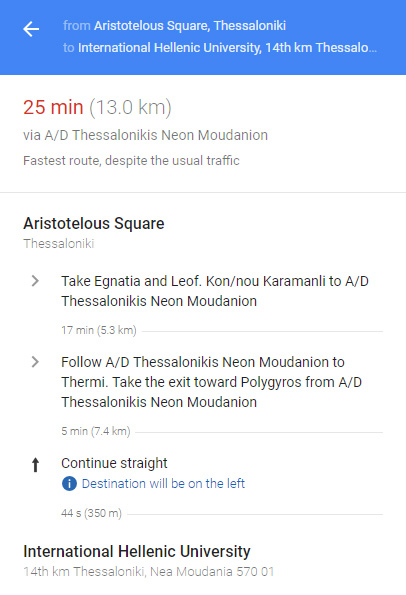 From Thessaloniki
By Car: Take the National Highway from Thessaloniki to Moudania (Halkidiki) and turn off at the Thermi & Polygyro exit. At the traffic light, cross straight over the junction and follow the road (past the Thermi Health Centre). The IHU UCIPS is on your left.
By Bus:
No 67B, IKEA-Triadi bus route
Bus No.67B (Triadi) of the Thessaloniki Urban Transport Organisation (OASTh) includes the IHU on some of its scheduled routes (IKEA – Triadi). This bus enters the university premises.
Please check the bus schedule at:
http://oasth.gr/#en/masterinfo/list/67/1/
No 68A, IKEA – IHU – Keramourgeia – IKEA
This route conducts a circular route, stopping on campus almost every hour and a half. Use this bus route to come to the IHU from the IKEA Bus Terminal and vice versa
Please check the bus schedule at:
http://oasth.gr/#en/routeinfo/list/581/67/1/
Buses No. 67 (Triadi), 67A (Triadi), and 87 (Vassilika) depart from IKEA towards the Thermi suburb, making a stop at the Thermi Health Centre (Kentro Igias). This is the nearest alternative bus stop to the IHU. Get off at the bus stop and follow the road to the right at the traffic lights. The university lies on your left.
(It is not advisable to use these buses, especially during the winter months, as you need to cross the road without traffic and street lights.)
The bus times have been scheduled to match class times as closely as possible but also to provide a service for morning and weekend access.
NOTE that during the summer, usually after the 1st of July, a different bus schedule is issued.