Health & Safety
Stay calm and shout for help or call staff at the school office or call security at front desk.
Call an ambulance (ekab 166) or the thermi health centre : 2313310800/2313310827
Make sure the paramedics know where the ambulance has to come and give some details about the person who is injured or ill.
If you do not know how to give first-aid treatment, do not touch the victim
Follow any instructions the paramedics give you.
In case of a light injury make use of the first-aid kit located in the building main entrance next to the photocopy machine.
Ambulance: 166
Thermi health centre: 2313310800/2313310827
Accidents, serious or life threatening conditions: You should consider calling an ambulance (166) and follow instructions as above.
If you are just not feeling well and you think you need to see a doctor or visit a hospital right away, you should:

Call 14944 (Greek only) or 11888 or 11850 or 11880 (English and Greek) from local or mobile phone to find out which hospital is currently on-duty for your medical situation. You could also call 166 (ambulance service) if you need additional medical advice for your situation (in Greek & most probably English too). Then, go to the hospital's EMERGENCY (EPEIGONTA) or OUTPATIENTS Department (EXOTERIKA IATREIA).
You may also consider calling a private doctor on duty (if outside usual office hours) for that day. You will have to pay an extra charge for a visit at home. A list of these doctors is also given on 14944 (Greek only) or at http://www.isth.gr/?efimerires (also Greek only).

In case of 1 or 2 above, If your situation requires further hospitalisation, PLEASE INFORM THE SCHOOL OFFICE at the earliest possible convenience at 2310 807523 or 2310 807500 during working hours (08:00 – 15:00).
It is usually obvious when emergency care is needed for serious injury or illness. An emergency is a critical or life-threatening situation such as: Loss of consciousness, sever loss of blood, suspected broken bones, persistent chest pain for 15 minutes or more, difficulty breathing, overdose, ingestion of toxic substance or poisoning.
If you are helping somebody in such a situation remember to keep calm, do everything you can to help the person, but don't put yourself in danger and don't give the person anything to eat, drink or smoke.
Unless you need urgent medical attention try to avoid local hospital emergency departments. Doctors and nurses there are equipped to deal with more serious cases of injury and illness, not routine and minor ailments.
If you want to receive treatment for a regular or non-urgent health problem, you have the following options:
(Only for medical problems that do not require immediate attention) Make an appointment with the Outpatients Department of a public hospital. For an appointment, select a hospital and call. Appointments may be booked for up to three months ahead depending on the medical specialty, thus this is really a solution for non-urgent medical problems. If you are required to make more examinations and tests, you must follow the procedures set by your insurance coverage.
For general medical cases, you can visit the THERMI HEALTH CENTRE located close to IHU campus 24 hours a day.
Visit a private doctor (without a contract with the Greek civil service insurance). If you opt for this you will not be able to receive any reimbursement for medical expenses incurred.
Emergency telephone numbers:
Emergency Medical Aid:
166
Poisons Centre (Athens):
210 7793777
For appointments at Thessaloniki Hospitals:
1535
For information on Thessaloniki hospitals on duty:
14944

www.invivo.gr/efnosinvivo.html

www.e-database.gr/Hospital_Duties/Now/6
According to paragraph 3 of article 31 of Law 4452/2017 (A17), undergraduate, postgraduate and doctoral students who are not covered by health insurance, are eligible to full medical and hospital care in the National Health System. The costs are covered by the Greek National Health Service Organisation (EOPYY) under the provisions of article 33 of Law 4368/2016 (A 83).
Students who are not covered by health insurance can visit National Hospitals and Health Centres, displaying their Social Security Number (AMKA).
Health Books are no longer issued or renewed for students who are not covered by health insurance. Students who own a student health book are kindly requested to return them to the Course Office.
European Health Insurance Card
If you have a Health Book and plan to travel to other EU countries, you should plan to obtain a European Health Insurance Card, which will allow you to receive treatment under the corresponding national health systems of the other countries. (Students covered for health insurance by other institutions should obtain the card through the latter.) The card is not valid for journeys for medical reasons per se.
Within Greece, you must use your Health Book, not the European Card
List of Thessaloniki Hospitals
Agios Dimitrios – Prefectural General Hospital
Elenis Zografou 2, 54634 Thessaloniki
Tel. 2313 322100
Outpatient Clinics for appointments:
2310 211796 (between 08.00-13.00 Mon-Fri)
Agios Pavlos – General Hospital
Ethnikis Antistaseos 161, 55134 Thessaloniki
Tel. 2313304400-401
Information: 2313 304409, 2313 304758, 2313 304460
Outpatient Clinics for appointments: 14790 (09.00-17.00)
Ahepa – University General Hospital
Styl. Kyriakidis 51, 54643 Thessaloniki (on Aristotle University campus)
Tel. 2313 303110 – 111 – 310, 2310 993310
Information: 2313 303775, 2313303096
Outpatient Clinics for appointments: 2313 303312 (07.30-14.30)
Georgios Papanikolaou – General Hospital
Exohi (Asvesthori), 57010 Thessaloniki
Tel. 2313307000
Information: 2313 307022
Outpatient Clinics for appointments: 1535, 2313307215, 2313307311
Ippokratio– General hospital
Constantinopoleos 49, 54642 Thessaloniki (entrance also on Kon.Karamanlis St)
Tel. 2313312000
Outpatient Clinics for appointments: 2310 892500 (07.30-14.30)
Gennimatas– General hospital
Ethnikis Amynas 41, 54635 Thessaloniki
Tel. 2313308100 – 2310963100
Outpatient Clinics for appointments: 2313308323-168
Papageorgiou– General hospital
Thessaloniki Ring Road, Nea Efkarpia, 56249 Thessaloniki
Tel. 2313323000
Information: 2313303775
Outpatient Clinics for appointments: (11.30-15.30): 14741
Theagenio– Cancer hospital
Alex. Papanastasiou 11, 54007 Thessaloniki
Tel. 2313301111
Outpatient Clinics for appointments: 2310898848-9
Ippokratio – Special Hospital for Aphrodisiac
and Skin Diseases
Delfon 124, 54643 Thessaloniki
Tel. 2313308800-2310811913
Outpatient Clinics for appointments: 2313308860-867-880 (08.00-13.00)
List of Health Centres
Thermi
Tel: 2313310800, 2313 310824, 2313 310825, 2313 310826
Diavata
El. Venizelou 5
Tel: 2310 781840, 2313 313700
Evosmos
Tegopoulou 2 & Perikleous
Tel.: 2310 387771-4
Nea Michaniona
Tel.: 23920 32500, 23923 30400
Nea Moudania
Pan. Korifinis 43
Tel.: 23733 50000
Sohos
Tel.: 23953 30200
Koufalia
Tel.: 23913 30300
Nea Madytos
Tel.: 23970-41300
Lagadas
Loutron 20
Tel.: 2394330700
Zagliveri
Tel.: 23933-30400
Pyrgos-Chalastra
Tel.: 2313 313700
In this section you will find information on actions required in case of emergency
IN CASE OF FIRE
Stay calm and don't panic
Call the fire brigade immediately: 199
If you know how to use a fire extinguisher, use it to put out the fire before the fire spreads
Evacuate the building according to the plans on display in each area
Gather at the assembly area as specified in the plan on display in the building
If you can't leave the room, seal the doors and windows in order not to help the fire spread
Fire brigade: 199
IN CASE OF AN EARTHQUAKE
Stay calm and don't panic
Stay away from furniture or objects which can fall on you
Find shelter under a table or desk or next to a solid piece of furniture (in the safe triangle). If there is no  suitable furniture, crouch in the middle of the room and cover your head with your hands
Find shelter under the frame of a door
Stay away from glass surfaces
Do not go out onto the balcony
Do not run towards the exit
Do not use the elevator
After the earthquake, leave the building with caution. Remember: do not run
Gather at the assembly area as specified in the plans on display.
International Hellenic University supports the anti-smoking campaign
International Hellenic University is a smoking free zone.
On 1 July, Greece's Ministry of Health launched a nationwide smoking ban. Under the new legislation smoking is banned in all public institutions including schools and universities.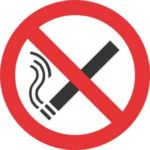 The ban also applies to the University Coffee Shop.
For more information about health risks of smoking and tips on how to quit smoking please visit the links below