Overview
The MSc in Management Programme is being offered by the School of Humanities, Social Sciences and Economics of the University Center of International Programmes of Studies of the International Hellenic University. The programme is a highly flexible qualification offering access to a wide range of careers in general management, marketing, operations and technology and consultancy services. It caters to the needs of recent graduates looking for an optimal combination of theory and a practical, hands-on approach. It is also of particular interest to those wishing to start up their own or join the family business. The first two terms aim to lay solid analytical foundations in all areas related to business and management. During the electives period, students are encouraged to deepen their knowledge and specialise in more specific areas, through four courses. A choice of a dissertation or a group consulting project concludes the programme. The courses are taught exclusively in English.
Official Government Gazette:
Key facts

Start date: October 2022
Application deadline: 30 September 2022  extended until 16 October 2022 or until places are filled
Campus: Thermi, Thessaloniki
Duration/Mode: 1 year full-time or 2 years part-time/ weekdays evenings
Taught language: English
Entry requirements: An undergraduate degree from a recognised University
Language requirements:IELTS (academic 6.5 and above), TOEFL (IBT, 95 and above) or TOEIC (745 and above) score, or a recognised by the Greek State certificate of proficiency in English of C1 level
Fees: 3,900€ (total) Excellence awards for the academic year 2022-2023 (check the Fees & Financing section for details)


Testimonials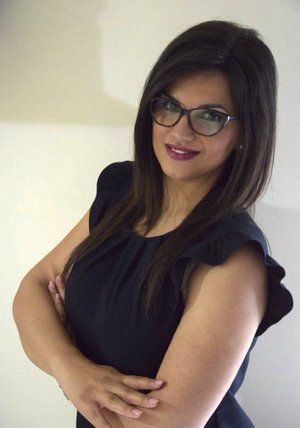 Eleftheria Briaza
MSc in Management
-
'My main motivation for pursuing the MSc in Management at International Hellenic University was ultimately to realize my childhood dream to become a successful manager.
Who can apply
To be considered for the programme, candidates are required to have:
Course content
The core courses
The core courses ensure that you acquire knowledge of practical concepts and attain skills directly relevant to your career aspirations.
First Term
Second Term
The elective courses
Students should select four courses. The above list is indicative and continuously updated. Electives may vary from year to year depending on current interest and student demand.
The Dissertation or Consulting Project
After the taught courses, students conduct an individual project on a subject relating to their studies and career. The topic is chosen by the student with input and advice from a faculty member, who acts as supervisor, working closely with the student. The dissertation is an individual 10,000- word paper of original scientific work, which upon completion is submitted for examination and approval by a three-member committee chaired by the student's supervisor.
Alternatively, students may participate in a consulting project. Individually or in groups, students study an actual problem of a collaborating firm or organisation. Following analysis of the problem, the students prepare and present concrete and practical solution(s) in a report of min 7,000 words. https://www.ihu.gr/ucips/geninfo/consulting-project
Seminars
The IHU organises regularly workshops and business seminars. Some of these are offered exclusively to the IHU students and alumni. The purpose of the Seminars is to act as a link between the academic community and businesses by introducing you to the real world of business and showing you how the notions and techniques learnt in the classroom apply and materialize in the Greek business context. After all, you will get a better taste of many sectors of the market.
https://www.ihu.gr/ucips/postgraduate-programmes/management#activitiesandevents
Schedule
The duration of the MSc in Management programme is 1 year full-time or 2 years part-time. Teaching takes place during weekday afternoons, usually 18.00 – 21.00. The programme starts every October.
Fees & Financing
The fees are also eligible for financing through LAEK  – OAED programme and discount for excellence (see Scholarships)
Fees
The programme fees for the MSc in Management is 3,900€. The amount is payable in two instalments for the full time mode or in four instalments for the part time mode at the beginning of each semester. The fees are also eligible for financing through LAEK – OAED programme.
Deposits
If you have been accepted to a postgraduate programme, you will need to make a payment of the deposit of 500 Euros to secure your place. This amount will count towards the first instalment of your tuition fees. The deposit is non-refundable once you have commenced your studies at the IHU. Prior to that, a refund can be made but a 20% administrative fee will be retained. The deposit can be paid by bank transfer or bank draft. Credit card payments can be made through electronic banking (contact your Bank as handling fees may apply).
Scholarships
The School of Humanities, Social Sciences and Economics offers a number of scholarships for the programmes it offers, covering a significant proportion of the fees. These scholarships are competitive. Award criteria include the quality of the first degree, the undergraduate grades of the candidate, his/her command of the English language and overall profile. Candidates for scholarships should include a separate letter with their application documents in which they request to be considered for a scholarship, stating the reasons why they think they qualify.
MSc in Management – Excellence awards for the academic year 2022-2023!
The MSc in Management announces the 'Excellence awards' for the academic year 2022-2023 by providing 25% tuition discount to candidates who hold a university degree of 7.5/10 and above, and 40% tuition discount to candidates who are rated in the top 5% of graduates of the academic year of their graduation (written evidence from the graduating University is required). For more information please contact the Programme Manager on (+30) 2310 807526.
Programme announcement – Admissions
Next MSc in Management class starts in October 2022. Interested parties are invited to submit their application by 30 September 2022  16 October 2022 or until places are filled, by following instructions at the applications page.
Awards and Distinctions of students in International Business Competitions
3rd place for the IHU MSc in Management students at the 'Global Management Challenge' Competition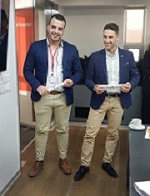 Congratulations to Moysidis Dimitirios, Kiakos Konstantinos & Thanassoulis Emmanouil, IHU MSc in Management students, for winning the 3 rd place with the group name 'Masters' at the 'Global Management Challenge' Competition , the World's Largest Management Competition for students from all Educational Institutions (AEI, TEI, Private Colleges) in Greece, Greek students from abroad and students from Cyprus!More than 500.000 university students and company managers participating in this event throughout the world in order to:
• Broaden their views on Corporate Strategy,
• Interact with the different Functional Areas of a Company
• Understand the Market Conditions in which they compete and Customer Satisfaction,
• Become aware of the impact of their Decisions on the Organization itself, within an environment designed to encourage and develop teamwork.
First prize: "Best Product Prototype"

We would like to warmly congratulate our graduate, Mr. Georgios Kakamoukas (MSc in ICT, 2016) for winning the first prize: "Best Product Prototype", through his participation at the E-nnovation  2015 competition and for winning the first prize at the "Idea in Health" 2015 Interamerican competition. The E-nnovation is an international competition held annually, which encourages the submission of Business Plans from young potential entrepreneurs based on innovative and novel ideas they develop. As a student of the MSc in ICT, Mr. Kakamoukas attended the elective course of "Innovation and Entrepreneurship"provided by the MSc in Management, since IHU provides the opportunity to students to be enrolled in electives from other MScs and academic fields and developed his business plan regarding the development of an electronic cardiograph. His business plan was next presented at the "Idea in Health" competition, an annual competition held by Interamerican, regarding business ideas in the healthcare sector. Mr. Kakamoukas was the finalist, won the first prize and had the opportunity to pitch his business idea directly to the CEO of Interamerican.
The above provides an additional example of academic excellence, practical orientation and multi-disciplinarity among various research areas provided to IHU students.
"Congratulations George, all the best in your future career endeavors"
Ideal career path
Upon completion of studies, graduates will have a vast range of career opportunities in international and local organisations. MSc in Management graduates are skilled decision-makers, problem-solvers and leaders who can work across all departments of an organisation.
The programme is designed to boost employability for students and professionals who aim for international careers in:
Consulting agencies
Managerial positions across a wide variety of industries in large corporations or SMEs, both locally and internationally
Managerial positions in the public sector and NGOs
Indicative Alumni Job Positions
Konstantinos Kiakos (MSc in Management 2018), Business Client Advisor, ProCredit Bank
Petros Orfanidis (MSc in Management 2017), Junior Consultant, HPP Strategy and Marketing Consultancy (Frankfurt)
Eleftheria Briaza (MSc in Management 2015), Estate Manager, Lidl Hellas
Sofia Tzezairlidou (MSc in Management 2015), Αssistant store manager AB Vasilopoulos
Athanasios Karvounis (MSc in Management 2015), Owner, start-up MADE COUTURE
Despina Tzekou (MSc in Management 2015), Export Department, ISOMAT
Athanasios Theodoridis (MSc in Management 2014), product design (web), Vetted, Silicon Valley and Head of Mobile Products, InsightReplay, New Hampshire
Panagiota Gkaletsi (MSc in Management 2012), National Folklore Museum of Thessaloniki
Vaggelis Simonis (MSc in Management 2012), Owner, SunCruise, shipping and real estate
Location
The MSc in Management takes place in the facilities of the School of Humanities, Social Sciences and Economics of the University Center of International Programmes of Studies of the International Hellenic University in Thermi-Thessaloniki.
Contact
Postal address:
School of Humanities, Social Sciences and Economics
Department of School of Humanities, Social Sciences and Economics
University Center of International Programmes of Studies
14th km Thessaloniki – Nea Moudania 570 01 Thermi, Thessaloniki, Greece
Tel: +30 2310 807 526/523/530
Email: infoshsse@ihu.edu.gr