Christos Tjortjis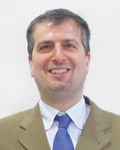 Dr. Christos Tjortjis is the Dean of the School of Science and Technology, International Hellenic University and Assoc. Prof. in Knowledge Discovery and Software Engineering systems. He is Programme Director for the MSc in Data Science, the MSc in ICT Systems, the MSc in Mobile and Web Computing: Internet of Things Applications, the MSc in Cybersecurity, and the MSc in Smart Cities and Communities at the International Hellenic University, School of Science & Technology. Formerly he was an adjunct Assoc. Prof. at the University of Ioannina, Dept. of Computer Science & Engineering, an adjunct Assist. Prof. at the University of W. Macedonia, Dept. Engineering Informatics and Telecommunications, a tenured Lecturer at the University of Manchester, Schools of Computer Science and Informatics, as well as UMIST, Department of Computation.
He holds a Deng(Hons) in Computer Engineering and Informatics (5 year studies) from the Department of Computer Engineering & Informatics at the University of Patras, and a BSc(Hons) in Law (4 year studies) from the Department of Law at the Democritus University of Thrace, in Greece. He also holds an MPhil in Computation from UMIST and a PhD in Informatics from the University of Manchester, U.K.
His focal research area is data mining, decision support, software engineering and smart cities, and his aim is to advance the use of data mining in domains such as medicine, programming languages and novel types of heterogeneous data. His research interests are in the areas of data mining and analytics, and software management, where he has published widely. His research objectives include bridging the gap between theories and applications of data mining, as well as establishing novel ways of retrieving information from data, text, social media and source code. He published over 90 papers in int'l journals and conferences. He was on the Program Committee of more than 100 and on the Organizational Committee of 9 conferences / workshops. He has been involved in several projects concerning data and text mining, data recovery, software quality and evolution etc., leading 7 of them.
Selected Publications
P. Koukaras, C. Tjortjis and D. Rousidis, 'Mining Association Rules from COVID-19 Related Twitter Data to Discover Word Patterns, Topics and Inferences', Information Systems, Vol. 109, 2022 (Elsevier) • Journal Paper
P. Koukaras, C. Tjortjis, P. Gkaidatzis, N. Bezas, D. Ioannidis, and D. Tzovaras, 'An interdisciplinary approach on efficient virtual microgrid to virtual microgrid energy balancing incorporating data preprocessing techniques', Computing, Vol. 104, No. 1, pp. 209-250, 2022 (Springer) • Journal Paper.
P. Koukaras, C. Nousi and C. Tjortjis, 'Stock Market Prediction Using Microblogging Sentiment Analysis and Machine Learning', Telecom, 3(2), 358-378, 2022 (MDPI) • Journal Paper
A. Mystakidis, E. Ntozi, K. Afentoulis, P. Koukaras, G. Giannopoulos, N. Bezas, P. Gkaidatzis, D. Ioannidis, C. Tjortjis and D. Tzovaras, "One Step Ahead Energy Load Forecasting: Multi-model approach utilizing Machine and Deep Learning", Proc. 57th Int'l Universities Power Engineering Conf., 2022 (IEEE) • Conference Paper
A. Ahmed, C. Tjortjis, "Machine Learning based IoT-BotNet Attack Detection Using Real-time Heterogeneous Data", Proc. 2nd Int'l Conf. on Electrical, Computer and Energy Technologies, 2022 • Conference Paper
Ε. Kapoteli, P. Koukaras, C. Tjortjis, Social Media Sentiment Analysis Related to COVID-19 Vaccines: Case studies in English and Greek language, Proc. 18th Int'l Conf. Artificial Intelligence Applications and Innovations. (Springer) • Conference Paper
M. Karagkiozidou, P. Koukaras, C. Tjortjis, Sentiment Analysis on COVID-19 Twitter Data: A Sentiment Timeline, Proc. 18th Int'l Conf. Artificial Intelligence Applications and Innovations. (Springer) • Conference Paper
P. Koukaras, A. Dimara, S. Herrera, N. Zangrando, S. Krinidis, D. Ioannidis, P. Fraternali, C. Tjortjis, C.-N. Anagnostopoulos, D. Tzovaras, Proactive buildings: A prescriptive maintenance approach, Proc. 18th Int'l Conf. Artificial Intelligence Applications and Innovations. (Springer) • Conference Paper
N. Zangrando, S. Herrera, P. Koukaras, A. Dimara, P. Fraternali, S. Krinidis, D. Ioannidis, C. Tjortjis, C.-N. Anagnostopoulos, D. Tzovaras, Anomaly detection in small-scale industrial and household appliances, Proc. 18th Int'l Conf. Artificial Intelligence Applications and Innovations. (Springer) • Conference Paper
M. Vlachos Giovanopoulos, G. Michailidis, P. Koukaras and C. Tjortjis, "Healthcare support using Data Mining: A case study on stroke prediction", Handbook of Artificial Intelligence in Healthcare, 2022 (Springer) • Book chapter
V. Chouliara, E. Kapoteli, P. Koukaras and C. Tjortjis, "Social Media Sentiment Analysis related to COVID-19 Vaccinations", Handbook of Artificial Intelligence in Healthcare, 2022 (Springer) • Book chapter
T. Chatzinikolaou, E. Vogiatzi, A. Kousis, C. Tjortjis, "Smart Healthcare Support Using Data Mining and Machine Learning", IoT and WSN based Smart Cities: A Machine Learning Perspective, pp 27–48. 2022 (Springer) • Book chapter
C. Nousi, P. Belogianni, P. Koukaras and C. Tjortjis, "Mining Data to Deal with Epidemics: Case Studies to Demonstrate Real World AI Applications", Handbook of Artificial Intelligence in Healthcare, Intelligent Systems Reference Library, vol 211, pp. 287-312, 2022 (Springer) • Book chapter
P. Koukaras, N. Bezas, P. Gkaidatzis, D. Ioannidis, D. Tzovaras, and C. Tjortjis, 'Introducing a Novel Approach in One-step Ahead Energy Load Forecasting', Sustainable Computing: Informatics and Systems, Vol. 32, 100616, 2021 (Elsevier) • Journal Paper
S. Liapis, K. Christantonis, V. Chazan-Pantzalis, A. Manos, D.E. Filippidou, and C. Tjortjis, 'A methodology using classification for traffic prediction: Featuring the impact of COVID-19', Integrated Computer-Aided Engineering, Vol. 28, pp. 417-435, 2021 (IOS Press) • Journal Paper
V. Sarlis, V. Chatziilias, C. Tjortjis, D. Mandalidis, 'A Data Science Approach Analysing the Impact of Injuries on Basketball Players and Team Performance', Information Systems, Vol. 99, 2021 (Elsevier) • Journal Paper.
P. Koukaras, P. Gkaidatzis, N. Bezas, T. Bragatto, M. Antal, F. Carere, D. Ioannidis, C. Tjortjis and D. Tzovaras, 'A Tri-layer Optimization Framework for One-day Ahead Energy Scheduling based on Cost and Discomfort Minimization', Energies, Vol. 14, no 12, 3599, 2021 (MDPI) • Journal Paper
A. Kousis and C. Tjortjis, 'Data Mining Algorithms for Smart Cities: A Bibliometric Analysis', Algorithms, Vol. 14, no. 8, 242, 2021 (MDPI) • Journal Paper
P. Koukaras, D. Rousidis and C. Tjortjis, 'Introducing a novel Bi-functional method for Exploiting Sentiment in Complex Information Networks', Int'l Journal of Metadata, Semantics and Ontologies. Vol. 15, No. 3, 2021 (Inderscience) • Journal Paper
A. Mystakidis, N. Stasinos, A. Kousis, V. Sarlis, P. Koukaras, D. Rousidis, I. Kotsiopoulos, C. Tjortjis, 'Predicting Covid-19 ICU needs using Deep Learning, XGBoost and Random Forest Regression with the Sliding Window technique', IEEE Smart Cities, 2021 (IEEE) • Journal Paper
P. Koukaras, V. Tsichli, and C. Tjortjis, "Predicting Stock Market Movements with Social Media and Machine Learning", Proc. 17th Int'l Conf. on Web Information Systems and Technologies, 2021. • Conference Paper
C. Nousi and C. Tjortjis, "A Methodology for Stock Movement Prediction Using Sentiment Analysis on Twitter and StockTwits Data", Proc. 6th South-East Europe Design Automation, Computer Engineering, Computer Networks and Social Media Conference, 2021 • Conference Paper
A. Avramidou and C. Tjortjis, "Predicting CO2 Emissions for Buildings Using Regression and Classification", Proc. 17th IFIP Int'l Conf. on Artificial Intelligence Applications and Innovations, 2021 (Springer). • Conference Paper
D. P. Kasseropoulos and C. Tjortjis, "An Approach Utilizing Linguistic Features for Fake News Detection", Proc. 17th IFIP Int'l Conf. on Artificial Intelligence Applications and Innovations, 2021 (Springer). • Conference Paper
V. Sarlis, C. Tjortjis, "Sports Analytics – Evaluation of Basketball Players and Team Performance", Information Systems, Vol. 93, 2020 (Elsevier) • Journal Paper
Tjortjis C., 'Mining Association Rules from Code (MARC) to Support Legacy Software Management', Software Quality Journal. Vol. 28, no. 2, pp. 633–662, 2020 (Springer) • Journal Paper
Rousidis D., Koukaras P., Tjortjis C., 'Social Media Prediction A Literature Review', Multimedia Tools and Applications, 79(9), 6279-6311, 2020 (Springer) • Journal Paper
P. Koukaras, C. Tjortjis, D. Rousidis, "Social Media Types: Introducing a Data Driven Taxonomy", Computing, Vol. 102, no. 1, pp. 295-340, 2020 (Springer) • Journal Paper
P. Koukaras, D. Rousidis and C. Tjortjis, "An Introduction to Information Network Modeling Capabilities, Utilizing Graphs", 14th Int'l Conf. Metadata and Semantics Research, Vol. 1355, 134-140, 2020 (Springer) • Conference Paper
D. Rousidis, P. Koukaras and C. Tjortjis, "Examination of NoSQL Transition and Data Mining capabilities", 14th Int'l Conf. Metadata and Semantics Research, Vol. 1355, 110-115, 2020 (Springer) • Conference Paper
P. Koukaras, C. Berberidis, and C. Tjortjis, "A Semi-supervised Learning Approach for Complex Information Networks", Proc. 3rd Int'l Conf. Intelligent Data Communication Technologies and Internet of Things, Vol. 57, pp. 1-13, 2020 (Springer) • Conference Paper
A. Mystakidis, C. Tjortjis, "Big Data Mining for Smart Cities: Predicting Traffic Congestion using Classification", Proc. 11th IEEE Int'l Conf. on Information, Intelligence, Systems and Applications, pp. 135-142, 2020 (IEEE) • Conference Paper
V. Chazan–Pantzalis, C. Tjortjis, "Sports Analytics for Football League Table and Player Performance Prediction", Proc. 11th IEEE Int'l Conf. on Information, Intelligence, Systems and Applications, pp. 73-80, 2020 (IEEE) • Conference Paper
D. Beleveslis, C. Tjortjis, "Promoting Diversity in Content Based Recommendation using Feature Weighting and LSH", Proc. 16th IFIP Int'l Conf. on Artificial Intelligence Applications and Innovations, pp. 452-461, 2020 (Springer) • Conference Paper
K. Christantonis, C. Tjortjis, A. Manos, D.E. Filippidou, Ε. Mougiakou and E. Christelis, "Using Classification for Traffic Prediction in Smart Cities", Proc. 16th IFIP Int'l Conf. on Artificial Intelligence Applications and Innovations, pp. 52-61, 2020 (Springer) • Conference Paper
E. Tsiara, C. Tjortjis, "Using Twitter to Predict Chart Position for Songs", Proc. 16th IFIP Int'l Conf. on Artificial Intelligence Applications and Innovations, pp. 62-72, 2020 (Springer) • Conference Paper
P. Koukaras, D. Rousidis, C. Tjortjis, "Forecasting and Prevention mechanisms using Social Media in Healthcare", Advanced Computational Intelligence Paradigms in Healthcare, 2020 (Springer) • Book chapter
S.M.Ghafari, C. Tjortjis, "A Survey on Association Rules Mining Using Heuristics", WIREs Data Mining and Knowledge Discovery, Vol. 9, no. 4, 2019 (Wiley) • Journal Paper
D. Beleveslis, C. Tjortjis, D. Psaradelis and D. Nikoglou, "A Hybrid Method for Sentiment Analysis of Election Related Tweets", Proc. 4th IEEE SE Europe Design Automation, Computer Engineer-ing, Computer Networks, and Social Media Conf., pp. 1-7, 2019 • Conference Paper
D. Tasios, C. Tjortjis, A. Gregoriades, "Mining Traffic Accident Data for Hazard Causality Analysis" Proc. 4th IEEE SE Europe Design Automation, Computer Engineering, Computer Networks, and Social Media Conf., pp. 1-7, 2019 (IEEE) • Conference Paper
K. Christantonis, C. Tjortjis, "Data Mining for Smart Cities: Predicting Electricity Consumption by Classification", Proc. 10th IEEE Int'l Conf. on Information, Intelligence, Systems and Applications, pp. 67-73, 2019 (IEEE) • Conference Paper
K. Apostolou, C. Tjortjis, "Sports Analytics algorithms for performance prediction", 10th IEEE Int'l Conf. on Information, Intelligence, Systems and Applications, , pp. 469-472, 2019 (IEEE) • Conference Paper
Ι. Schoinas, C. Tjortjis, "MuSIF: A Product Recommendation System Based on Multi-source Implicit Feedback", 15th Int'l Conf. on Artificial Intelligence Applications and Innovations, IFIP AICT 559, pp. 1–13, 2019 (Springer) • Conference Paper
P. Koukaras, C. Tjortjis, "Social Media Analytics, types and methodology", Machine Learning Paradigms: Applications of Learning and Analytics in Intelligent Systems, 2019 (Springer) • Book chapter
M. Koubarakis, G. Vouros, G. Chalkiadakis, V. Plagianakos, C. Tjortjis, E. Kavallieratou, D. Vrakas, N. Mavridis, G. Petasis, K. Blekas, A. Krithara, "AI in Greece: The Case of Research on Linked Geospatial Data", the AI magazine, Vol 39, No 2, pp. 91-96, 2018 (AAAI) • Journal Paper
L. Oikonomou and C. Tjortjis, "A Method for Predicting the Winner of the USA Presidential Elections using Data Extracted from Twitter", Proc. 3rd SEEDA Computer Engineering, Computer Networks, and Social Media Conference, 2018 (IEEE) • Conference Paper
Tzirakis P. and Tjortjis C., "T3C: Improving a Decision Tree Classification Algorithm's Interval Splits on Continuous Attributes", Advances in Data Analysis and Classification, Vol. 11, No. 2, pp. 353-370, 2017 (Springer) • Journal Paper
S. Yakhchi, S.M. Ghafari, C. Tjortjis, M. Fazeli, "ARMICA-Improved: A New Approach for Association Rule Mining", LNAI, vol 10412, pp. 296-306, 2017 (Springer-Verlag) • Conference Paper
Nalmpantis O. and Tjortjis C., "The 50/55 Recommender: a Method Incorporating Personality into Movie Recommender Systems", Proc. 8th Int'l Conf. on Engineering Applications of Neural Networks, (CCIS) 744, pp. 1–10, 2017 (Springer-Verlag) • Conference Paper
Theodorou T.I., Salamanis A., Kehagias D., Tzovaras D., and Tjortjis C., "Short-Term Traffic Prediction Under both Typical and Atypical Traffic Conditions using a Pattern Transition Model", Proc. 3rd Int'l Conf. Vehicle Technology and Intelligent Transport Systems, pp. 79-89, 2017 • Conference Paper
Ghafari S.M. and Tjortjis C., "Association Rules Mining by improving the Imperialism Competitive Algorithm (ARMICA)", AICT Proc. 12th Int'l Conf. on Artificial Intelligence Applications and Innovations, 2016 (Springer) • Conference Paper
Arshad S., Tjortjis C., "Clustering Software Metric Values Extracted from C# Code for Maintainability Assessment", SETN 16, Article No. 24, Int'l Conf. Proc. Series, 2016 (ACM) • Conference Paper
D. Papas and C. Tjortjis, "Combining Clustering and Classification for Software Quality Evaluation", LNAI 8445, pp. 273–286, 2014 (Springer-Verlag) • Conference Paper
V.A. Tatsis, C. Tjortjis, P. Tzirakis, "Evaluating data mining algorithms using molecular dynamics trajectories", Int'l Journal of Data Mining and Bioinformatics, Vol. 8, No. 2, pp. 169-187, 2013 (Inderscience) • Journal Paper
V.C. Gerogiannis, A. Karageorgos, L. Liu, and C. Tjortjis, "Personalised Fuzzy Recommendation for High Involvement Products", Int'l Conf. Systems, Man, and Cybernetics, pp. 4884-4890, 2013 (IEEE) • Conference Paper
Kanellopoulos Y., Antonellis P., Tjortjis C., Makris C. and Tsirakis N., "k-Attractors: A Partitional Clustering Algorithm for Numeric Data analysis", Applied Artificial Intelligence, Vol. 25, No.2, pp. 97-115, 2011 (Taylor & Francis) • Journal Paper
A. Karageorgos, D. Avramouli, C. Tjortjis, G. Ntalos, "Agent-based Digital Networking in Furniture Manufacturing Enterprises", Communications in Computer and Information Science (CCIS 88), pp. 381–395, 2010 (Springer-Verlag) • Conference Paper
Antonellis P., Antoniou D., Kanellopoulos Y., Makris C., Theodoridis E., Tjortjis C. and Tsirakis N., "Clustering for Monitoring Software Systems Maintainability Evolution", Electronic Notes in Theoretical Computer Science, Vol. 233, pp. 43-57, 2009 (Elsevier)• Journal Paper
Antonellis P., Antoniou D., Kanellopoulos Y., Makris C., Theodoridis E., Tjortjis C. and Tsirakis N., "Code4Thought Project: Employing the ISO/IEC-9126 standard for Software Engineering – Product Quality Assessment", Proc. 13th European Conf. Software Maintenance and Reengineering, pp. 297-300, 2009 (IEEE) • Conference Paper
Denaxas S. and Tjortjis C., "A GO-driven semantic similarity measure for quantifying the biological relatedness of gene products", Intelligent Decision Technologies, Vol. 3, No 4, pp. 239-248, 2009 (IOS Press,) • Journal Paper
Zhang S., Tjortjis C., Zeng X., Qiao H., Buchan I. and Keane J., "Comparing Data Mining Methods with Logistic Regression in Childhood Obesity Prediction", Information Systems Frontiers Journal, Vol. 11, No. 4, pp. 449-460, 2009 (Springer) • Journal Paper
Denaxas S. and Tjortjis C., "Scoring and summarizing gene product clusters using the Gene Ontology", Int'l Journal of Data Mining and Bioinformatics, Vol. 2, No. 3, pp.216- 235, 2008 (Inderscience) • Journal Paper
Kanellopoulos Y., Heitlager I., Tjortjis C., and Visser J., "Interpretation of Source Code Clusters in Terms of the ISO/IEC-9126 Maintainability Characteristics", Proc. 12th European Conf. Software Maintenance and Reengineering, pp. 63-72, 2008 (IEEE) • Conference Paper
Kanellopoulos Y., Antonellis P., Tjortjis C. and Makris C., "k-Attractors: A Clustering Algorithm for Software Measurement Data Analysis", Proc. 19th Int'l Conf. on Tools with Artificial Intelligence, pp. 358-365, 2007 (IEEE) • Conference Paper
Kanellopoulos Y., Makris C. and Tjortjis C., "An Improved Methodology on Information Distillation by Mining Program Source Code", Data & Knowledge Engineering, Vol. 61, No 2, pp. 359-383, 2007 (Elsevier) • Journal Paper
Tjortjis C. and Wang C., "HybridSet: An Effective Approach to Association Rule Mining", Proc. 2007 European Conference on Operational Research  2007 • Conference Paper
Tjortjis C., Saraee M., Theodoulidis B. and Keane J.A., "Using T3, an Improved Decision Tree Classifier, for Mining Stroke Related Medical Data", Methods of Information in Medicine, Vol. 46, No. 5, pp. 523-529, 2007 (Schattauer GmbH) • Journal Paper
Denaxas S. and Tjortjis C., "Quantifying the Biological Similarity between Gene Products Using GO: An Application of the Vector Space Model", Proc. Information Technology in Biomedicine, 2006 (IEEE) • Conference Paper
Kanellopoulos Y., Dimopoulos T., Tjortjis C. and Makris C., "Mining Source Code Elements for Comprehending Object-Oriented Systems and Evaluating Their Maintainability", SIGKDD Explorations, Vol. 8, No. 1, pp. 33-40, 2006 (ACM Press) • Journal Paper
Marchant J., Tjortjis C., and Turega M., "A Metric of Confidence in Requirements Gathered from Legacy Systems: Two Industrial Case Studies", Proc. 10th European Conf. Software Maintenance and Reengineering, pp. 353-359, 2006 (IEEE) • Conference Paper
Muyeba M., Khan M., Malik, Z. and Tjortjis C., "Towards Healthy Association Rule Mining (HARM): A Fuzzy Quantitative Approach", LNCS, Vol. 4224, pp. 1014-1022, 2006 (Springer-Verlag) • Conference Paper
Rousidis D. and Tjortjis C., "Clustering data retrieved from Java source code to support software maintenance: A case study", Proc. 9th European Conf. Software Maintenance and Reengineering, pp. 276-279, 2005 (IEEE) • Conference Paper
Kanellopoulos Y. and Tjortjis C., "Data Mining Source Code to Facilitate Program Comprehension: Experiments on Clustering Data Retrieved from C++ Programs", Proc. 12th Int'l Workshop Program Comprehension, pp. 214-223, 2004 (IEEE) • Conference Paper
Wang C. and Tjortjis C., "PRICES: An Efficient Algorithm for Mining Association Rules", Lecture Notes in Computer Science, Vol. 3177, pp. 352-358, 2004 (Springer-Verlag,) • Conference Paper
Dong L. and Tjortjis C., "Experiences of Using a Quantitative Approach for Mining Association Rules", LNCS, Vol. 2690, pp. 693-700, 2003 (Springer-Verlag,) • Conference Paper
Tjortjis C., Sinos L. and Layzell P.J., "Facilitating Program Comprehension by Mining Association Rules from Source Code", Proc. 11th Int'l Workshop Program Comprehension, pp. 125-132, 2003 (IEEE) • Conference Paper
Tjortjis C. and Keane J.A, "T3: an Improved Classification Algorithm for Data Mining", LNCS, Vol. 2412, pp. 50-55, 2002 (Springer-Verlag,) • Conference Paper
Tjortjis C., Dafoulas G., Layzell P.J., Macaulay L., "A Model for Selecting CSCW Technologies for Distributed Software Maintenance Teams in Virtual Organisations", Proc. 26th Int'l Computer Software Applications Conf., pp. 1104-1108, 2002 (IEEE) • Conference Paper
Tjortjis C., Gold N., Layzell P.J. and Bennett K., "From System Comprehension to Program Comprehension", Proc. 26th Int'l Computer Software Applications Conf., pp. 427-432, 2002 (IEEE) • Conference Paper
Tjortjis C. and Layzell P.J., "Expert Maintainers' Strategies and Needs when Understanding Software: A Qualitative Empirical Study", Proc. 8th Asia-Pacific Software Engineering Conf, pp. 281-287, 2001 (IEEE) • Conference Paper