Overview
The MSc in Mobile and Web Computing: Internet of Things Applications* Programme is being offered by the School of Science & Technology of the University Center of International Programmes of Studies of the International Hellenic University.
The programme aims to provide graduate level education and is targeted towards graduates who wish to broaden their knowledge in the field of Information and Communication Technology Systems and specifically web and mobile applications. Since its invention in 1989, the World Wide Web has long been the main driver of development and progress, not only in the ICT sector itself but also, and most importantly, in virtually all aspects of human life. Standing on the shoulders of the WWW's success, the introduction of smartphones brought about a new technological revolution, which many had foreseen as a necessary next step.
Today, these two technological fields have converged into a common track, where applications and infrastructure are advancing hand-in-hand toward the vision of Ubiquitous Computing and Web 3.0. In our effort to address this trend we introduce the "MSc in Mobile and Web Computing' programme. It has been designed to provide a mixture of state-of-the-art knowledge in relevant computer science, communications, web and mobile technologies, blended with essential business skills.
The lecture series by leading academic instructors from Greece and abroad, along with projects and dissertation work, mean that students graduate well equipped and highly competitive at international level. This programme is designed for University graduates of Informatics/Computer Science, and Electrical Engineering but also of Natural Sciences and Economic and Business Departments, with a background in ICT and a strong motivation to pursue a career in Mobile and Web Computing related domains.
The courses of the programme are taught exclusively in English. The academic staff comes from Universities in Greece and abroad. In addition, it is possible to attend the programme combining distance learning with traditional face-to-face teaching
Official Government Gazette:
*subject to publication in the national governmental gazetteer
Key facts

Start date: October 2021
Application deadline: 1 October 2021 extended until 8 October 2021 or until places are filled
Campus: Thermi, Thessaloniki
Duration/Mode: 14 months (full-time) or 26 months (part-time)/(available also in distance learning mode)/weekdays evenings
Taught language: English
Entry requirements: An undergraduate degree from a recognised University
Language requirements: IELTS (academic 6.5 and above), TOEFL (IBT, 90 and above) or TOEIC (850 and above) score, or an accredited by the Greek State certificate of proficiency in English
Fees: 2,900€ 


Who can apply
To be considered for the programme, candidates are required to have:
Course content
Upon arrival at the IHU all students attend foundation courses in Java and SQL, that aims to bring all incoming students to the same level with respect to some of the programming knowledge that is required. During the first term, all students are required to follow five (5) mandatory core courses. During the second term, all students follow a further three (3) required courses combined with two (2) elective courses. Finally, during the third term, work is dedicated exclusively to the Master's dissertation.
The core courses
1st Term Core Courses
Internet of Things Fundamentals
2nd Term Core Courses
The elective courses
During the second term students tailor their programme further by choosing elective courses. The choice of elective courses must sum up to 12 ECTS (2 courses). Some of the elective courses may not be offered in a particular year, depending entirely on student demand.
Product Design for the Internet of Things
IT and Electronics in the frame of the IoT technologies
Security and Privacy for the IoT
The Dissertation
During the third term, students work on their Masters Dissertation project, the thematic area of which is relevant to their programme of studies and their interests. The dissertation provides a good opportunity to apply theory and concepts learned in different courses to a real-world problem or challenge. Students are supervised throughout their projects by a member of the academic faculty and the academic assistants. After submission of the dissertation, students present their projects to classmates and faculty at a special event.
Duration of studies
The MSc in Mobile and Web Computing (full-time) is a 14-month programme taught over three terms. Lectures mainly take place on weekday evenings. It is also available in part-time mode over 26 months for those who cannot commit to a full-time programme either for work or other reasons. In addition, it is possible to attend the programme combining distance learning with traditional face-to-face teaching.
The Academic Faculty
Faculty Members
Other Research and Teaching Personnel
Visiting Faculty
Prof. Konstantinos Asimakopoulos
Prof. Georgios Chatzivasilis
Prof. Konstantinos Diamantaras
Dr. Despoina Elisabeth Filippidou
Prof. Komninos Komnios
Prof. Apostolos Papadopoulos
Prof. Georgios Papadopoulos
Prof. Konstantinos Rantos
Dr. Nikolaos Serketzis
Dr. Dimitrios Tektonides
Fees & Financing
Fees
The programme fees for the MSc in Mobile and Web Computing is 2900€ (pending approval). The amount is payable in two instalments for the full time mode or in four instalments for the part time mode at the beginning of each semester. The fees are also eligible for financing through LAEK 0,45% – OAED programme.
Deposits
If you have been accepted to a postgraduate programme, you will need to make a payment of the deposit of 500 Euros to secure your place. This amount will count towards the first instalment of your tuition fees. The deposit is non-refundable once you have commenced your studies at the IHU. Prior to that, a refund can be made but a 20% administrative fee will be retained. The deposit can be paid by bank transfer or bank draft. Credit card payments can be made through electronic banking (contact your Bank as handling fees may apply).
Scholarships
The School of Science & Technology offers a number of scholarships for the programmes it offers, covering a significant proportion of the fees. These scholarships are competitive. Award criteria include the quality of the first degree, the undergraduate grades of the candidate, his/her command of the English language and overall profile. Candidates for scholarships should include a separate letter with their application documents in which they request to be considered for a scholarship, stating the reasons why they think they qualify.
Programme announcement – Admissions
Next MSc in Mobile and Web Computing class starts in October 2021. Interested parties are invited to submit their application by 1 October 2021 8 October 2021 or until places are filled, by following instructions at the application page.
Academic Partners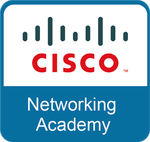 Cisco Networking Academy – Please contact Prof. Periklis Chatzimisios for further information/details.
Ideal Career path
Graduates from the MSc in Mobile and Web Computing programme can play a pivotal role in the development of software products and services of any company or organization, contributing to their growth and competitiveness. Many non-ICT companies of every sector are also investing in IT departments in order to in-house develop their own, tailor-made software. Therefore, a multitude of employment opportunities are envisaged for graduates of this programme. Indicatively they include:
Software companies
e-business companies
Mobile network providers and broadband Internet providers
Research institutes
Businesses that are investing in in-house software developmen
Marketing and advertising
Free lancing
In addition to technical skills gained through study, our students benefit from the University's excellent Careers Office, in order to attain essential soft skills (e.g. communication skills, interview preparation, CV writing etc.) to better prepare for the job market.
Location
The MSc in Mobile and Web Computing takes place in the facilities of the School of Science & Technology of the University Center of International Programmes of Studies of the International Hellenic University in Thermi-Thessaloniki.
Contact
Postal address: School of Science & Technology Department of School of Science & Technology University Center of International Programmes of Studies 14th km Thessaloniki – Nea Moudania 570 01 Thermi, Thessaloniki, Greece Tel: +30 2310 807 529 Email: : infotech@ihu.edu.gr