Workshop – Digital Archaeology
19-23 June 2023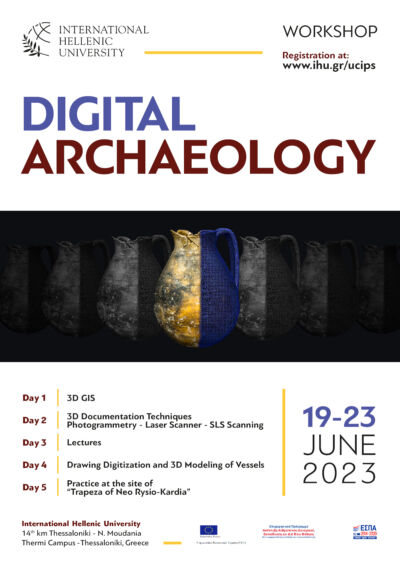 Ειδικοί στον τομέα της ψηφιακής αρχαιολογίας παρουσιάζουν ένα πενθήμερο εργαστήριο, στο οποίο θα διδάξουν και θα παρουσιάσουν τεχνικές τρισδιάστατης ψηφιοποίησης και μοντελοποίησης, καθώς και εργαλεία τρισδιάστατης οπτικοποίησης. Προσκαλούμε όλους τους φοιτητές και τους ειδικούς (αρχαιολόγους, τοπογράφους, αρχιτέκτονες) που ενδιαφέρονται να εμβαθύνουν στην ψηφιακή αρχαιολογία να συμμετάσχουν.Ο στόχος του εργαστηρίου είναι να αποκτήσουν οι συμμετέχοντες νέες ψηφιακές δεξιότητες. Το εργαστήριο θα περιλαμβάνει επίσης μια σειρά διαλέξεων, όπου θα συζητηθούν διάφορα ερευνητικά προγράμματα στα οποία χρησιμοποιούνται τρισδιάστατα εργαλεία για διάφορους σκοπούς (έρευνα, επαφή με το κοινό, διατήρηση πολιτιστικής κληρονομιάς). Επιπλέον, θα συζητηθεί η σημασία των επιλογών ανοιχτής δημοσίευσης (Open Access), καθώς και η σημασία των αποθετηρίων ψηφιακών αρχαιολογικών δεδομένων στην Ελλάδα. Οι διαλέξεις είναι ανοιχτές στο κοινό.
Στους συμμετέχοντες θα δοθεί πιστοποιητικό παρακολούθησης. Η παρακολούθηση είναι δωρεάν.
Το έργο συγχρηματοδοτείται από την Ελλάδα και την Ευρωπαϊκή Ένωση (Ευρωπαϊκό Κοινωνικό
Ταμείο) μέσω του Επιχειρησιακού Προγράμματος «Ανάπτυξη Ανθρώπινου Δυναμικού, Εκπαίδευση
και Διά Βίου Μάθηση».
General Information
Specialists in digital archaeology are coming together for a five-day workshop, to teach and present 3D digitization techniques, 3D modeling workflows and 3D visualization tools. We invite all students and scholars interested in digital archaeology to attend.
The workshop aims at motivating students to add new digital skills to their scientific qualifications. The workshop will also include a series of open lectures, and several projects will be showcased, where 3D tools are used for different purposes (research, public engagement, heritage preservation). Additionally, the importance of Open Access publishing options along with the existence of repositories for digital archaeological data in Greece will be discussed.
A certificate of attendance will be given to the participants.
Registration