MSc in Banking and Finance Exclusive Seminars Series: "The asset allocation decision in the investment process"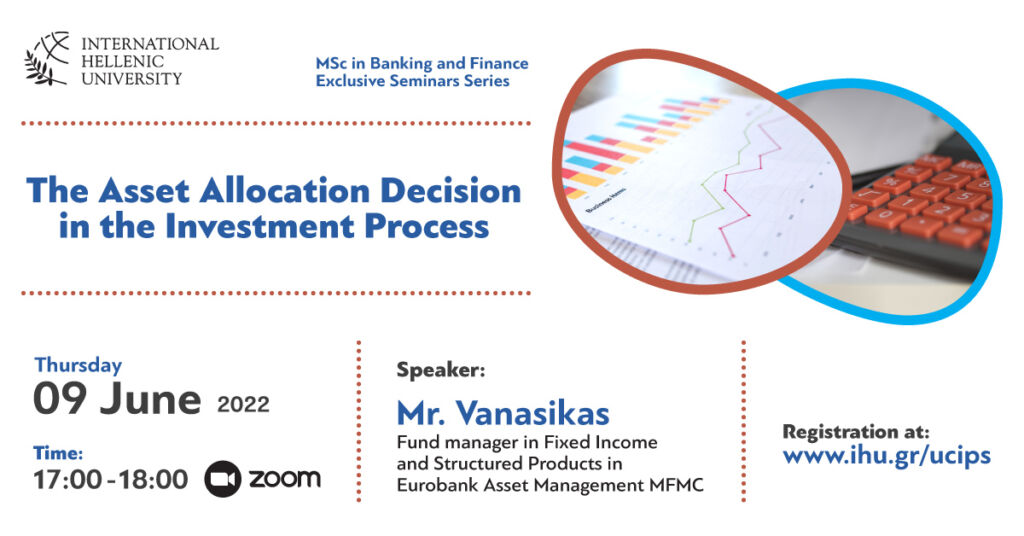 The Exclusive Seminar includes an hourly presentation of the importance of asset allocation decision in the investment process. The purpose of the Exclusive Seminar is to act as a link between the academic community and businesses, by introducing you to the importance of investment decisions and the relevant market tools, as well as to show you how the notions and techniques learnt in the classroom apply and materialize in the Greek business context. After all, you will get a better taste of the investment and asset allocation decisions in the macro environment and the generic and specific factors that might affect them.
Mr. Georgios Vanasikas, Fund manager in Fixed Income and Structured Products in Eurobank Asset Management MFMC, will speak about the implementation and the determinants of investment decisions and will demonstrate real examples and case studies. The presentation will follow an interactive way, when asked decisions of the students would be incorporated in real portfolios in Bloomberg Terminal. The conversation would focus on ways to grasp the interactions between macro events and price movement of the assets, and implement spot-on decisions in order to steer the portfolios accordingly.
The Seminars are offered primarily for the 'MSc in Banking and Finance' students, but are open also to all 'IHU School of Humanities, Social Sciences and Economics' students. The Seminar will take place on Thursday, June 09, 2022, at 17:00, Online.
Mini bio of the speaker
Georgios Vanasikas graduated from the University of Macedonia, holding a bachelor degree in the disciplines of accounting and finance. He also holds a Master in Banking and Finance from the International Hellenic University, graduating with distinction, first in class. He has been a CFA charterholder since 2020, after successfully completing all 3 written exams till 2019. He started his career in finance at Eurobank in 2017, and particularly in the trading department of the Dealing Room.  Currently, he holds the position of Fund manager in Fixed Income and Structured Funds in Eurobank Asset Management MFMC, and has successfully passed the Level Gamma (portfolio manager) exams of Hellenic Capital Market Commission. He co-manages 620 million euro AuM in relevant mandates, and participates in the investment process and monitoring of more than two billion euro AuM. Previously, he has been occupied in positions in sales and telecommunications.