A Blended Intensive Program for Erasmus Students: Tourism & Gamification
The International Hellenic University and its School of Humanities, Social Sciences & Economics, the MSc in Hospitality and Tourism Management, the Research Laboratory of Tourism and Service Management (TourLab) and the Department of Organisation Management, Marketing and Tourism (OMMT) organize 'A Blended Intensive Program for Erasmus Students: Tourism & Gamification' (9-20 October 2023).
The program aims to provide Erasmus students with the knowledge and skills necessary to use gamification capabilities to unify experience and engagement objectives, strengthening the results of marketing and tourism promotional campaigns.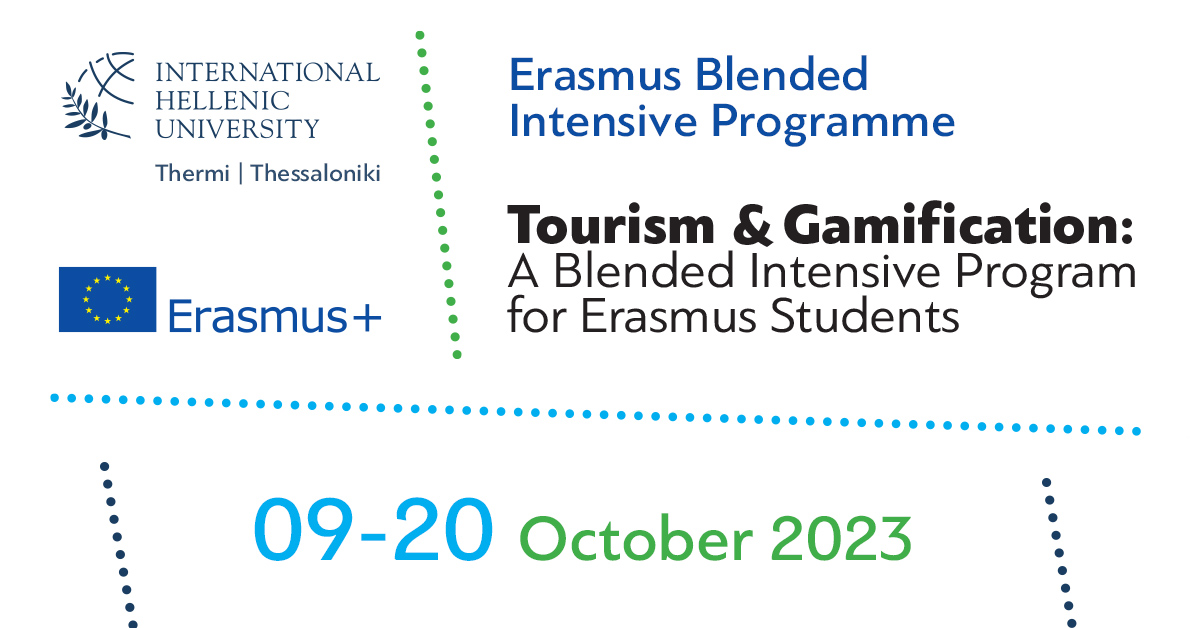 The objectives of the program are as follows:
To introduce students to the concepts of destination management and innovative practices in tourism.
To provide students with an in-depth understanding of the current state of innovation and digital applications in the tourism industry.
To expose students to the latest research of gamification, its applications and its exploitation in the field of tourism.
To develop students' critical thinking and problem-solving skills by engaging them in group activities and case studies.
To give students the opportunity to network with other students and professionals in the field of hospitality and tourism management.
To participate in an innovation competition which will promote tourism and culture.
The Erasmus BIP Program will take place in the campus of the International Hellenic University (Thermi, Thessaloniki, Greece).
Collaborating  institutions:
University of Rijeka, Faculty of Tourism and Hospitality Management, Croatia
Cyprus University of Technology, Department of Hotel and Tourism Management, Cyprus
University of Technology and Humanities in Radom, Poland
We hope Erasmus students enjoy the Program and their stay in Thessaloniki!