Dr Athanasia Pouloudi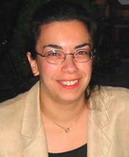 Athanasia (Nancy) Pouloudi is Associate Professor in Information Systems Management in the Department of Management Science and Technology at the Athens University of Economics and Business (AUEB), Greece. She holds a first degree in Informatics (AUEB, Greece), and an MSc and PhD degree in Information Systems (London School of Economics, UK).
Nancy favors an interpretive research approach to the study of organizational and social issues in information systems adoption. Her research agenda entails bringing to the fore the social dimension of interorganizational systems, including e-business and e-government applications, acknowledging and revealing complex stakeholder relationships. She has acted as scientific coordinator for AUEB in a number European Projects on e-government, e-business and e-inclusion. She is Senior Associate Editor of the European Journal of Information Systems and Associate Editor of IT & People and member of the Editorial Boards of Information & Management and the International Journal of Society, Information, Communication and Ethics.
She has taught information systems at Brunel University (as lecturer) and the London School of Economics (as teaching assistant) and held visiting positions at Erasmus University (The Netherlands), the University of Hawai'i (USA) and the Athens Laboratory of Business Administration (Greece). She has served as Programme Committee member in several international conferences and recently as Research-in-Progress Paper Co-Chair at the European Conference on Information Systems (ECIS) 2009, Programme Committee Chair at the Mediterranean Conference on Information Systems (MCIS) 2009 and Doctoral Consortium Co-Chair at MCIS 2010. Nancy is an active member of the Association of Information Systems (AIS) and serves as Region 2 (Europe-Middle East-Africa) Representative of the AIS from July 2010 to June 2013.
Nancy can be reached by e-mail at pouloudi@aueb.gr