Dr Eftichios S. Sartzetakis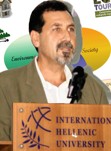 He is an Associate Professor of Environmental Economics at University of Macedonia, Thessaloniki, Greece. Before returning to Greece in 2001, he was an Associate Professor at Thompson Rivers University, British Columbia, Canada where he served as a chairperson of the Department of Economics. He has also taught at Carleton University, Université Laval and University of British Columbia.
His research interests focus on environmental economics and include the design of environmental policies such as environmental tax reforms, tradable emission systems and environmental information provision; international environmental agreements; adoption of new environmentally friendly technologies and the effects of environmental regulations on competitiveness.
He has published a number of papers in leading academic journals, he has presented his work in many international conferences and academic institutions, he is a member of the Editorial Board of the journal "Environment and Development Economics", and he has refereed for almost all leading international journals on environmental economics.
He is a member of international academic organisations such as, the European Association of Environmental and Resource Economists, the Canadian Resource and Environmental Economics Study Group, and the Group de recherché en economie de l'energie et des ressources naturelles. He is leading a number of research projects on environmental economics and management, among which the Environmental Management System of the University of Macedonia which is certified by EMAS.
He served as Lead Author in a number of committees and international projects, such as the Millennium Ecosystem Assessment, and national projects such as the Bank of Greece's Study Group for the Impact of Climate Change. He served as expert advisor to private firms and public authorities both in Canada and in Greece and he is currently an expert advisor to the Minister of Environment Energy and Climate Change and serves as a board member of the National Centre for Environment and Sustainable Development and of the Green Fund.