Dr Dimitrios Tzetzis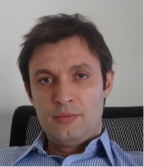 Dr. Dimitrios Tzetzis holds a BEng (Hons) in Mechanical Engineering and an MSc in Advanced Manufacturing Systems from Kingston University, London, UK. He was also granted a PhD in Mechanical Engineering from Queen Mary, University of London, UK. He worked as a member of the Centre for Materials Research (CMR) where he focused his research in the design, analysis and manufacture of composite materials for aerospace structures.
He has been involved in various research and development projects in the areas of composite materials and experimental mechanics while his current research interests are focused on the design, analysis, manufacture and testing of nanocomposites. His research activities in the International Hellenic University are within the framework of the MSc in Strategic Product Design and they are related to modules such as materials selection, mechanics, computer aided design along with reverse engineering and rapid prototyping that lead to engineering product innovation.
Dimitrios is a member of the IMechE, IOM3, SPE, ESCM and he has a broad teaching experience as a visiting lecturer in various educational establishments. He is also a reviewer of various international scientific journals and has several publications in peer reviewed international journals and international conference proceedings.
Publications in academic journals
Ch. Achillas, D. Aidonis, E. Iakovou, M. Thymianidis, D. Tzetzis, A Methodological Framework for the Inclusion of Modern Additive Manufacturing into the Production Portfolio of a Focused Factory, (forthcoming)
A. Tsagaris, D. Tzetzis, E. Hatzikos, G. Mansour, P. Kyratsis, Improving the Tensile Strength of a Novel Double Hook Design Manufactured by Nanosilica Epoxy Reinforced Aramid/Carbon Composites (forthcoming)
N. Koumartzis, D. Tzetzis, P. Kyratsis, R. G. Kotsakis, N. Grigoriadis, A New Music Instrument from Ancient Times: Modern Reconstruction of the Greek Lyre of Hermes using 3D Laser Scanning, Advanced Computer Aided Design and Audio Analysis (forthcoming)
A. Korlos, D. Tzetzis, G. Mansour, D. Sagris, K. David, The Delamination Effect of Drilling and Electro-Discharge Machining on the Tensile Strength of Woven Composites as Studied by X-ray Computed Tomography (forthcoming)
A. Chatzikonstantinou, D. Tzetzis, P. Kyratsis, N. Bilalis, Replica Fabrication of a Greek Paleontological Find Utilising Laser Scanning and Fused Deposition Modeling, Applied Mechanics and Materials Vol. 657, pp. 795-799, 2014
K. Anagnostopoulos, D. Tzetzis, K. Berketis, Assessment and Comparison of the Shear Strength Behaviour of Carbon Fibre and Polypropylene Fibre Reinforced Cohesive Soils, Research Journal of Applied Sciences, Engineering and Technology, Vol. 7 (20), pp.4327-4342, 2014
Ch. Achillas, G. Banias, D. Tzetzis, P. Kyratsis, N. Moussiopoulos, Investing in Product Design Education in Times of Economic Crisis, International Journal of Product Design, Vol. 5 (1), pp 23-41, 2014
A. Korlos, D. Tzetzis, G. Mansour, Investigation of the Electro-Discharge Open-Hole Machining on the Structural Behavior of Carbon Fiber Reinforced Polymers, Applied Mechanics and Materials Vol. 657, pp. 321-325, 2014
K. Anagnostopoulos, D. Tzetzis, K. Berketis, Shear Strength Behaviour of Polypropylene Fibre Reinforced Cohesive Soils, Geomechanics and Geoengineering: An International Journal Vol. 9 (3), pp. 241-251, 2014
G. Mansour, D. Tzetzis, Nanomechanical Characterisation of Hybrid Multiwall Carbon Nanotube and Fumed Silica Epoxy Nanocomposites, Polymer-Plastics Technology and Engineering Polymer - Plastics Technology and Engineering 52 (10), pp. 1054-1062, 2013
G. Mansour, D. Tzetzis, D., K.D. Bouzakis, A nanomechanical approach on the measurement of the elastic properties of epoxy reinforced carbon nanotube nanocomposites, Tribology in Industry, Vol. 35 (3), pp.190-199, 2013
D. Tzetzis, G. Mansour, Ι. Tsiafis, E. Pavlidou, Nanoindentation Measurements of Fumed Silica Epoxy Nanocomposites, Journal of Reinforced Plastics and Composites Vol. 32 (3), pp. 160–173, 2013
D. Tzetzis, Characterisation of GFRP Surfaces Amenable for Bonding and their Effect on the Strength of Co-Cured Single Lap Joints, Journal of Adhesion Science and Technology,Vol. 26 (24), pp. 2683-2707, 2012K.
K. Berketis, D. Tzetzis, The Compression After Impact Strength of Woven and Non-Crimp Composites Subjected to Long Term Water Immersion, Journal of Materials Science, Vol. 45, pp. 5611–5623, 2010
M. J. Assael, K.D. Antoniadis, I. Metaxa, D. Tzetzis, Measurement of the Enhancement of the Thermal Conductivity of an Epoxy-Resin Polymer when Reinforced with Glass Fibres and/or Carbon Multi-Walled Nanotubes, J. Chem. Eng. Data, Vol. 54 (9), pp 2365–2370, 2009
K. Berketis, D. Tzetzis, P.J. Hogg, The Non-Contact Ultrasonics Used for Impact Damage Detection on Long-Term Water Immersed GFRP Composites, International Journal of Microstructure and Materials, Vol. 4 (1-2),pp. 34-44, 2009
K. Berketis, D. Tzetzis, Long Term Water Immersion Ageing Characteristics of GFRP Composites, Journal of Materials Science, Vol. 44, pp.3578-3588, 2009
K. Berketis, D. Tzetzis, P.J. Hogg, Impact Damage Detection and Degradation Monitoring Of Wet GFRP COMPOSITES USING NON-CONTACT ULTRASONICS, Polymer Composites, Vol. 30 (8), pp. 1043-1049, 2009
M. J. Assael, K.D. Antoniadis, D. Tzetzis, The Use of the Transient Hot-Wire Technique for Measurement of the Thermal Conductivity of an Epoxy Resin Reinforced with Glass Fibres and/or Carbon Multi-Walled Nanotubes, Composites Science & Technology, Vol.68 (15-16), pp. 3178-3183, 2008
D. Tzetzis, The Role of Surface Morphology on the Strength and Failure Mode of Polymer Fibre Reinforced Single Lap Joints, Journal of Materials Science Vol. 43, pp. 4271–4281, 2008
K. Berketis, D. Tzetzis, P.J. Hogg, The Influence Of Long Term Water Immersion Ageing On Impact Damage Behaviour And Residual Compression Strength οf GFRP, Materials and Design Journal, Vol. 29, pp. 1300-1310, 2008
D. Tzetzis, P.J. Hogg, M. Jogia, The Compression Performance and the Associated Buckling Behaviour of a Vacuum Infusion Repaired Composite Component Monitored with the Shadow Moire Technique, Experimental Techniques Journal Vol. 32 (2), pp. 39-46, 2008
D. Tzetzis, P.J. Hogg, The Influence of Surface Morphology on the Interfacial Adhesion and Fracture Behaviour of Vacuum Infused CFRP Repairs, Polymer Composites Journal Vol. 29, pp. 92-108, 2008
D. Tzetzis, P.J. Hogg, Experimental And Finite Element Analysis On The Performance Of Vacuum-Assisted Resin Infused Single Scarf Repairs, Materials & Design, Vol. 29, No.2, pp. 436-449, 2008
D. Tzetzis, P.J. Hogg, Infield Composite Repair Techniques for Combat Aircraft: A Research and Development Perspective, Materials Technology, Vol. 22, No.1, pp. 1-9, 2007
D. Tzetzis, P.J. Hogg, Bondline Toughening of Vacuum Infusion Composite Repairs, in Composites Part A: Applied Science and Manufacturing, Vol. 37 pp. 1239-1251, 2006
D. Tzetzis, P.J. Hogg, M. Jogia, Double Cantilever Beam Mode-I Testing for Vacuum Infused Repairs of GFRP, Journal of Adhesion Science and Technology, Vol. 17, No. 3, pp. 309-328, 2003