Dr Paris Kokorotsikos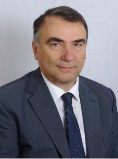 Dr. Paris Kokorotsikos is CEO of Athens Stock Exchange listed Management and Technology Consulting Company EUROCONSULTANTS S.A. with subsidiaries in most of Central, East European and MENA countries and owner of i4G incubation for Growth Technology and ETEP Incubators, as well as shareholder of Thessaloniki Technology Park and numerous technology start ups in the sectors of IST, life sciences and environment.
Dr Kokorotsikos started his career (in parallel with his PhD research) as industrial liaison officer of the Chemical Process Engineering Research Institute (CPERI) of the National Foundation for Research, and has taught courses on the Energy technologies and Technology Transfer at the Engineering School of the Aristoteles University of Thessaloniki.
Dr. Kokorotsikos participates through EUROCONSULTANTS Group in the development of Technology Infrastructure and funds Initiatives in SE Europe (Romania, Bulgaria, Serbia, Czech Republic), and GCC countries (Technology Parks in Bahrain Qatar, Abu Dhabi, Oman). During the past years he was involved in many PPP and ERDF projects conception and development and aiming at University and research centers Infrastructures, Innovation Zones, Technology Parks, private sector infrastructures, Industrial parks, University preincubators and accelerators in EU and precession countries. He has extensive experience in Croatia as developer of Euroconsultants Croatia and has been involved in several projects conception as well as in the preparation of the 2007-2013 operational programmes, in addition to projects preparation with universities.
Dr. Kokorotsikos was a member of the board of the Technology Transfer Association of EU. He has coordinated technical assistance teams at top government level on planning, management and evaluation of Operational and Development programmes for more than 40 countries and regions aiming at Private Investments increase, for SMEs, for Technology Transfer, for Quality in industry, for Interregional and Cross-Border Cooperation and especially for promoting entrepreneurship from Research Institutes, in the framework of EU, WB, EBRD and government programmes. He has been author at several papers on development issues and addressed in many relevant conferences in the EU .