Dr. Eleni Mentesidou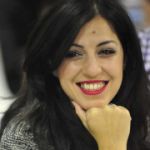 Dr. Eleni Mentesidou holds a Bachelor's degree in History and Archeology with specialization in Classical Archaeology from Aristotle University of Thessaloniki where she also finished her MA in Classical Archaeology. She then carried on her studies at the International Hellenic University, completing a master's in Black Sea Cultural Studies. Dr. Mentesidou recently concluded her doctoral degree at Democritus University of Thrace entitled The cult in Sinope. Archaeological and Historical testimonies. From the city's foundation until the Roman Conquest. She was awarded fellowships from the Leventis Foundation and the American School of Classical Studies at Athens, and was given a permit from the Turkish Ministry of Culture and Tourism for research in archaeological museums in Turkey.
Dr. Mentesidou has been working for the Greek Ministry of Culture as an archaeologist since 2005, participating in archaeological projects throughout Macedonia. From 2005 to 2009 she worked at the 30th Ephorate of Prehistoric and Classical antiquities (Kozani and Grevena prefectures) as a field archaeologist, while at the same time she participated in the organization of the new exhibition of the Archaeological Museum of Aiani. From 2009 to 2020 she participated in archaeological projects in Chalcidice and Thessaloniki organizing and supervising archeological excavations.
Her research interests are classical archaeology, material culture and ancient history of Macedonia, the eastern Mediterranean and the Black Sea, cultural and religious studies, ethnicity and identity-formation.
Published papers
Σ. Κώτσος, Σ., Μεντεσίδου, Ε., Ράδης, Π., Κούσουλα Αι., (forthcoming). Ανασκαφικές έρευνες στη δυτική εσωτερική περιφερειακή οδό Θεσσαλονίκης (Excavations at the west ring road of Thessaloniki), ΑΕΜΘ 33.
Mentesidou, E. T., Şirin, O. A., Kolağasioğlu, Μ. (forthcoming). Roman Amisos: A study on graves and grave findings. In D. Braund, A. Chaniotis, E. K. Petropoulos, (eds.), International Symposium, The Black Sea Region in the Context of the Roman Empire, 5-8 May 2016,
Μεντεσίδου, Ε. T. (2019). Ο λεγόμενος «ναός του Σαράπιδος» στη Σινώπη του Πόντου. Νέα προσέγγιση ενός παλαιού ευρήματος (The so-called "Sarapis temple" in Sinope of Pontos. A new approach to an old find). In Ν. Ακαμάτης, Α. Βουβουλής, Α. Λαφτσίδης, Ν. Πουλακάκης (), Τῷ διδασκάλῳ Τιμητικός τόμος για τον καθηγητή Ιωάννη Ακαμάτη, Θεσσαλονίκη, 263-274.
Mentesidou, E. (2019). Religion and Cultural Interactions in the Black Sea: The Cult of the Mother of the Gods or Cybele / Kybele in Sinope. In H. Kaba, G. Kan Şahin, B. M. Akarsu, O. Bozoğlan (eds.), International Symposium on Sinope and Black Sea Archaeology "Ancient Sinope and the Black Sea", Sinop, 53-63.
Τσιγαρίδα, Ε.-Μπ., Αθανασιάδης, Γ., Αλεβίζου, Ευ., Μεντεσίδου, Ε. Τ. (2017). Ανασκαφή δύο νεκροταφείων σε αγροτικές περιοχές του δήμου Κασσάνδρας Χαλκιδικής (The excavation of two cemeteries in the rural area of Cassandra in Chalcidice), ΑΕΜT 26, 483-490.
Mentesidou, E. T. (2015). Komana: A New Find from Hamamtepe and a Preliminary Study on Sanctuary's Cults. In D. Burcu Erciyas, M. N. Tatbul (eds.), Τhe Medieval Settlement at Komana, Ankara, 209-226.
Μεντεσίδου, Ε. T. (2008). Τα παρχάρια στον Άγιο Δημήτριο Κοζάνης. In Μ. Γ. Σέργης (ed.), Πόντος. Θέματα Λαογραφίας του Ποντιακού Ελληνισμού, Αθήνα, 269-289.
Mentesidou, E.T. (2008). Αμάσεια. Η πρώτη πρωτεύουσα του Πόντου (Amaseia. The first capital of Pontοs). In Th. Kiriakidis, K. Chatzikiriakidis (eds.), Προσεγγίσεις στην Ιστορία του Πόντου. Θεσσαλονίκη, 63-90.