Dr Eleni Heracleous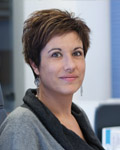 She received her Ph.D. in Chemical Engineering from the Aristotle University of Thessaloniki in 2005. She also holds a diploma in Chemical Engineering from the same university.
Dr. Heracleous' research interests lie in the area of renewable energy sources and more specifically in the development of catalytic processes for the conversion of biomass to high-added value green chemicals and fuels. She has also activities in the CO2 capture from stationary emission sources via carbonate and chemical looping. Moreover, she has been working on the environmental evaluation of such biomass conversion processes and other bioenergy systems via Life Cycle Analysis (LCA).
Her research experience is manifested by her participation in several EU and national research projects, publications in highly recognized refereed international journals, participation in scientific books and multiple presentations in national and international conferences. Her teaching experience includes a temporary lecturer position at the Department of Chemical Engineering in AUTH for a Liquid Fuel Processes course, teaching assistant positions for laboratory courses at the same department and participation as invited instructor in several educational seminars on her areas of scientific expertise. Dr. Heracleous has also supervised/co-supervised several undergraduate diploma theses and currently co-supervises two on-going Ph.D. dissertation projects.
Selected Publications
E.F. Iliopoulou, E. Heracleous, A. Delimitis, A.A. Lappas, "Producing High Quality Biofuels: Pt-based Hydroisomerization Catalysts Evaluated using BtL-Naphtha Surrogates", Applied Catalysis B: Environmental 145 (2014) 177
E. Heracleous, "Environmental assessment of biofuels via Life Cycle Analysis (LCA)", In N. Karnavos, A.A. Lappas, G. Marnellos (Eds.), 'Biofuels-Sustainable Energy', Panhellenic Association of Chemical Engineers, Tziolas Publications, Thessaloniki, GR, 2014
E. Heracleous, A.A. Lappas, "Production of synthetic liquid biofuels via Fischer-Tropsch", In N. Karnavos, A.A. Lappas, G. Marnellos (Eds.), 'Biofuels-Sustainable Energy', Panhellenic Association of Chemical Engineers, Tziolas Publications, Thessaloniki, GR, 2014
A.A. Lemonidou, P.N. Kechagiopoulos, E. Heracleous, S.S. Voutetakis, "Catalytic Steam reforming of bio-oils to hydrogen", In K. Triantafyllidis, A.A. Lappas, M. Stöcker (Eds.), 'The Role of Catalysis for the Sustainable Production of Bio-fuels and Bio-chemicals', Elsevier B.V., Oxford, UK, 2013
E. Heracleous, A.A. Lappas, "Production of biofuels via Fischer-Tropsch (FT) Synthesis", In R. Luque, J. Campelo, J.H. Clarck (Eds), 'Handbook of biofuels production – Processes and Technologies', Woodhead Publishing, Cambridge, UK, 2011
E. Heracleous, E.F. Iliopoulou, A.A. Lappas, "Micro-mesoporous Pt/ZSM-5 Catalysts for the Hydroisomerization of BTL-naphtha", Industrial & Engineering Chemistry Research 52 (2013) 14567
E. Heracleous, E.T. Liakakou, A.A. Lappas, A.A. Lemonidou, "Investigation of K-promoted Cu-Zn-Al, Cu-X-Al and Cu-Zn-X (X=Cr, Mn) catalysts for carbon monoxide hydrogenation to higher alcohols", Applied Catalysis A: General 455 (2013) 145
E. Heracleous, A.A. Lemonidou, "CAT4BIO conference: Advances in catalysis for biomass valorization", Platinum Metals Review 57(2) (2013) 101
E. Heracleous, "Well-To-Wheels Analysis Of Hydrogen Production From Bio-Oil Reforming For Use In Internal Combustion Engines", International Journal of Hydrogen Energy 36 (2011) 11501
E.S. Vasiliadou, E. Heracleous, I.A. Vasalos, A.A. Lemonidou, "Ru-based catalysts for glycerol hydrogenolysis", Applied Catalysis B: Environmental 92 (2009) 90
Α. Christodoulakis, E. Heracleous, A.A. Lemonidou, S. Boghosian, "An operando Raman study of structure and reactivity of alumina-supported molybdenum oxide catalysts for the oxidative dehydrogenation of ethane", Journal of Catalysis 242 (2006) 16
E. Heracleous, A.A. Lemonidou, "Ni-Nb-O mixed oxides as highly active and selective catalysts for ethene production via ethane oxidative dehydrogenation. I. Characterization and catalytic performance", Journal of Catalysis 237 (2006) 162
E. Heracleous, A.A. Lemonidou, "Ni-Nb-O mixed oxides as highly active and selective catalysts for ethene production via ethane oxidative dehydrogenation. II. Mechanistic aspects and kinetic modelling", Journal of Catalysis 237 (2006) 175
E. Heracleous, A.F. Lee, K. Wilson, A.A. Lemonidou, "Investigation of Ni-based alumina supported catalysts for the oxidative dehydrogenation of ethane to ethylene: Structural characterization and reactivity studies", Journal of Catalysis 231 (2005) 159